Seniors Michael Mueller and Ashley Spanier were nominated by Paynesville Area High School for the Academics, Arts, and Athletics Award, sponsored by the Minnesota State High School League.

For the AAA Award, students must be seniors and must carry a GPA of 3.0 or above. They are judged on their classroom performance, athletic and arts achievements, and other activities.

Spanier, the daughter of Dean and Jeanne Spanier, said that her arts and athletics involvment has taught her to multi-task, which she will need in the real world; has helped her to make friends and to be involved in the school and the community; and has helped her to be a well-rounded person.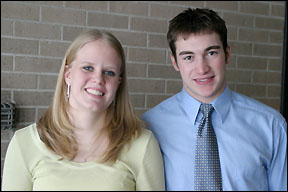 She also likes to be busy. "I don't like to sit around much," she said. Mueller, the son of Bev and Butch Mueller, said that academics and sports involvement has taught him organization, discipline, and how to be a team player.
Seniors Ashley Spanier and Michael Mueller were PAHS's nominees this year for the Minnesota State High School League's Academics, Arts, and Athletics (AAA) Award.
Spanier is ranked third in the Class of 2005 at PAHS, they said, and Mueller is ranked fifth. Both were inducted into the National Honor Society - recognizing scholarship, service, character, and leadership - as juniors. Mueller is the alternate Boy Stater this year, and Spanier is the alternate Girl Stater.
Mueller has played trumpet in the band and pep band for four years. He also plays in the jazz band and has competed in individual band contests. This year, he is the section leader for the trumpets.
Mueller will be a nine-time letterwinner in football, hockey, and baseball and served as captain in all three sports his senior year. As a fullback/linebacker, he has earned All Conference honors in football the past two seasons. He was a member of the American Legion baseball team in 2003 that won a state title and hit .333 for the conference-winning baseball team last spring.
Spanier has sung in choir for four years in high school, earning section superior honors in competition and also singing in the pops choir. She also has played flute in the band and pep band for four years and is a section leader this year.
She is the president of the student council this year, has been a member of the youth advisory board to the school board for four years, and is a peer helper.
Spanier has lettered for one year in volleyball, three years in gymnastics, and two years in softball. She earned honorable mention honors in softball last spring, playing catcher and hitting .267.
Mueller and Spanier competed in the District 20 AAA Award competition in January. Jen Becker of Eden Valley-Watkins and Ryan Walsch of ACGC were chosen as the district winners and advanced to section competition.
Mueller plans to attend the University of Minnesota in the Twin Cities next year and to study chemical engineering.
Spanier plans to attend either the College of St. Benedict's, St. Cloud State University, or Ridgewater College next year and plans on becoming a registered nurse.
---
Contact the author at editor@paynesvillepress.com • Return to News Menu
Home | Marketplace | Community
---