World Day of Prayer highlights Indonesia
This article submitted by Linda Stelling on 3/8/00.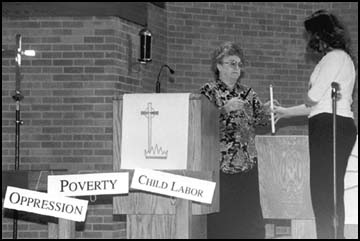 "Talitha Kumi Young Woman, Stand Up" was the theme of the World Day of Prayer on Friday, at the Paynesville Lutheran Church. The program was written by Christian women of Indonesia and used worldwide.

The title was chosen from the words of Jesus to Jairus's daughter: "And Jesus took her by the hand and said to her, Talitha Kumi, little girl, I tell you to get up." (Mark 5:21)

Women from area churches took part in the ecumenical service. Becca Gardner, representing Talitha Kumi, led a possession of women into the sanctuary. The women wore signs depicting the problems on Indonesia: poverty, child labor, exploitation, prejudice, and oppression. Carrying signs were Betty Keller, Elaine Walters, Laura Lorenz, Juanita Moser, and Joyce Spaulding. Ringing the gong was Peggy Jerabek.

Gloria Scheel was the leader for the program. Guest speaker was Pastor Rick Hoyme of the Paynesville Lutheran Church. Karlene Gray, director of the Living At Home Block Grant Program, spoke about the newly formed program to the congregation.

Others taking part were Pastor Jim McCalmant who read the scripture. Clarice Stumo led the singing with Paula Geier, accompanist.
---