Hoeft and Kolb to represent Stearns as dairy princesses
This article submitted by Linda Stelling on 3/7/01.
Steph Hoeft and Leanne Kolb have been selected to represent Stearns County in the region dairy princess contest. Thirteen girls competed for the honor to represent Stearns County for the region Princess Kay title in June, but only seven were chosen to advance.

Along with Hoeft and Kolb, Jan Fiedler of St. Joseph, Joleen Hadrich of Avon, Amy Herkhenoff and Teresa Holdvogt of Freeport and Kelly Schoenberg of Melrose, were selected.

Judging took place on Saturday, March 3, at the Freeport Community Center.

Also competing for the honor were Jackie Breth, Anita Shay, and Kelly Rodenwald of Albany; Julie Middendorf of Freeport, Kristie Niehaus of Melrose, and Patty Kroll, of Holdingford. Niehaus was named Miss Congeniality.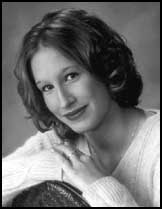 Steph, 19, is the daughter of Melody and Jerry Hoeft, Paynesville. She was sponsored by Farmers and Merchants State Bank.
Steph is a senior at Paynesville Area High School where she is editor of the school newspaper, a peer helper, a peer tutor, and a peer mediator. She is a member of the National Honor Society, Target Leadership, Future Farmers of America, student council, and student advisory board. She also participated in danceline ninth through junior year.
Steph volunteers as a teacher's aide in algebra, taught Spanish to fifth graders, and volunteers with the Special Olympics and the March of Dimes walk.
She was a delegate to the United Nations Pilgrimage for Youth, and a national scholar. She represented Minnesota at the National Young Leaders Conference in Washington, D.C. her sophomore year.
She will be attending Bemidji State University this fall and majoring in criminal justice and political science.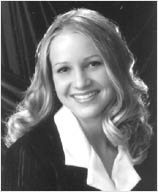 Leanne Kolb, 18, is the daughter of John and Theresa Kolb, St. Martin. She was sponsored by First District Association.
A senior at Paynesville Area High School, Leanne is a member of the National Honor Society. She is a peer helper and a peer tutor and competes in track, where she has lettered and earned all conference honors.
Leanne has been active in 4-H for 10 years. She is a member of the Tel-Stars 4-H Club where she participated in the Junior Leaders Service club, dairy judging, softball, and advisory council. She is also a member of the Minnesota Junior Holstein Association.
As a member of the Stearns County 4-H Knowledge Bowl Team, Leanne has helped the team to five regional titles. She was the 1998 Stearns County 4-H dairy judging contest champ, the 1999 McLeod County dairy judging contest reasons champ, the 1999 Minnesota delegate for National 4-H Conference, and the 2000 Todd County dairy judging contest high individual score.
Leanne plans on attending either St. Kate's or St. Benedict's this fall to major in biology.
---