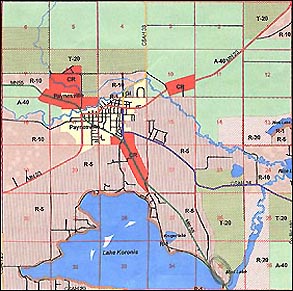 A problem with the county-wide zoning as it affected Paynesville Township surfaced about a month ago, when a township resident asked for a permit to build a garage.

Residents in the commercially-zoned areas of the township (shown in solid red) will have an opportunity to rezone their land on Monday, March 11.

Since their residence was actually zoned as commercial, the county ordinance would not permit them to add to their residence. A quirk in the ordinance prevents residents who live in commercially-zoned areas from remodeling their house or even adding a new deck.<

The rezoning of commercially-zoned land that is not being used for commercial purposes will be addressed at a special public hearing on Monday, March 11. That hearing will be held in the township hall starting at 7:30 p.m.

The township has received one-time authority from the county to rezone any such commercially-zoned property as residential.

Township officials have been contacting all residential property owners within the commercially-zoned areas to see if these residents are interested in rezoning their property or keeping it as commercial.

There will be no cost to the property owners wishing to make a switch.

There are three commercially-zoned areas in the township at present: along Highway 55 west of town, along Highway 55 southeast of town, and along Highway 23 east of town.

Stearns County adopted a county-wide zoning ordinance in the spring of 2000, and since then a number of glitches like this have been discovered and addressed.

The county and Paynesville Township recently reconciled their ordinances, with the township adopting a new ordinance that was as strict or stricter than the county ordinance. This will enable the township to enforce both ordinances and will eliminate the need for dual permitting, which was needed in the past.

The county will handle permits and variances for septic systems, for property within 1000' of lakeshore or 300' of other surface water (including streams and rivers), and all feedlots. Other than these, the township should be able to handle the permit, with just a final copy needing to be sent to St. Cloud.
---
Contact the author at paypress@lkdllink.net • Return to News Menu
Home | Marketplace | Community
---