Work began this week to remodel Washburne Court (formerly the Good Samaritan Care Center) to a 24-unit assisted living facility.

Washburne Court has operated as an assisted living facility since the first of the year, but the transformation from the current 46-bed floor plan to 24 assisted living units will take a few months.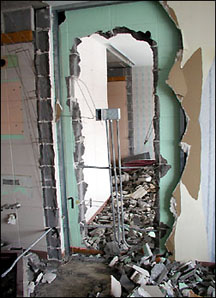 According to Tom Kooiman, the chief operating officer for the Paynesville Area Health Care System (PAHCS), which bought the Good Samaritan Care Center last year, the decision to convert Washburne Court was due in part to a market study conducted by the hospital district. The results indicated a need for affordable assisted living in the community and conversely a decreasing need for skilled nursing home beds.
Washburne Court hadn't been operating at full capacity and was regularly losing money, Kooiman stated, so switching the board and care facility to assisted living emerged as the best option. "PAHCS is now able to generate more revenue, fill more beds, as well as fill a need within the community," said Kooiman.
Renovations got under way last week to remodel Washburne Court for assisted living. Once finished in May or June, the facility will have 20 studio apartments and four suites to house up to 28 residents.
By switching to assisted living, Washburne Court fills a gap between independent living, like at 700 Stearns Place or in senior apartments, and nursing home care, like at the Koronis Manor. "It's my belief that the hospital board wanted to position PAHCS well for the future and to create a continuum of care for the community," Kooiman continued.
As a board and care facility, Washburne Court could not offer as many services as a skilled nursing home like the Koronis Manor. Skilled nursing homes can do IVs, ventilators, and tube feedings, as well as offer rehab twice per day.
PAHCS's administration had hoped that the structural changes would be in place by the time the nursing home beds were decertified, said Mari Louis, director of housing services at Washburne Court. With construction just getting under way, the 24 assisted living units won't be ready for full occupancy until May or June, she said.
"The feedback I've been hearing from people in the community is: 'This is exactly what I need for mom,'" said Louis. "The need from the community is so great," she continued, "that if we don't provide it, they will go elsewhere."
Roughly 30 people have applied for assisted living, including five couples. Louis said they hope to be at full occupancy by May, with more applicants on the waiting list.
Kooiman believes residents at Washburne Court are anticipating the coming changes. "I think they're excited," he said, "and I'm confident that the quality of care hasn't changed."
"It'll be a wonderful program when all is said and done," he added. "Caring for life is what it's all about."
Transforming Washburne Court into 20 studio apartments and four two-room suites will be completed in two phases. Twelve residents of the facility qualified to stay in assisted living and will live there through the construction. In January, the current tenants were provided microwaves and refrigerators until the renovation is finished.
Each floor will be done separately, with residents living on the other floor until each floor is completed.
Construction at Washburne Court will continue for the next three to four months. The first phase - where Chris Trushensky of Augusta Electric was at work - will complete the third floor remodel, and the second phase will finish the second floor. Residents, who are living on the second floor, will move upstairs to the finished units until the project wraps up.
Additions to each room will include a kitchenette, individual air-conditioning and mailboxes, locking doors, and installing sprinklers in the rooms (required by fire code).
Base rates are $770 per month for a studio and $1,070 per month for a suite. Services will also be available to residents on an a la carte basis, including 24-hour nursing supervision, housekeeping, social activities, laundry, shopping, bathing, dispensing medications, etc.
Staffing needs at Washburne Court declined considerably after the switch to assisted living. The number of employees dropped at the facility from 45 to just a dozen or so.
Nearly two dozen employees, from throughout the system, took early retirement or a severance package.
Washburne Court is now primarily staffed with universal workers, healthcare workers trained to assist with all daily activities. These universal workers will provide most of the daily care for residents at Washburne Court.
Construction delays for this project included snags with the bidding and permitting. The bidding was repeated after the first round generated only one bid. PAHCS then scaled back the project, acted as the general contractor in the second round of bidding, and secured 12 subcontractors to complete the renovation.
The renovation should cost nearly $500,000, and PAHCS received a $250,000 grant from the state for the project.
Once Washburne Court is running at full capacity, Kooiman believes it will be able to break even financially, with the inclusion of state incentives.
A statewide effort to reduce empty nursing homes beds reimburses facilities $2,080 per year for each bed that is decertified. PAHCS will use this money to raise its rates at Hilltop Care Center in Watkins by $4.30 per day, which should provide an extra $90,000 per year in revenue for that facility.
Koronis Manor has already benefitted by the switch of Washburne Court to assisted living, said Kooiman. Occupancy at the Koronis Manor has increased to 99 percent.
Some assisted living residents are eligible for financial assistance through programs at the Stearns County Health and Human Services Department. For information on these programs, call 320-656-6225.
---
Contact the author at editor@paynesvillepress.com • Return to News Menu
Home | Marketplace | Community
---