DECA students advancing to state competition
This article submitted by Linda Stelling on 3/3/98.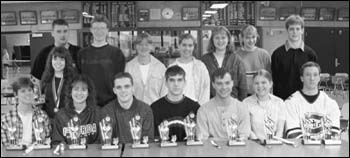 The Paynesville DECA students competed Feb. 11 in St. Cloud for the right to advance to state competition. All of the students qualified to compete at the State DECA Conference on March 8 to 10 at the Hyatt Regency in Minneapolis.

The Paynesville Quiz Bowl Team of Kurt Habben, Rachel Gifford, Karl Sanborn and Lindsey Moser were named district champions by outscoring Sauk Rapids #2 team 31-2.

Students earning district champion honors were: Craig Keller, job manual; James Evans, hospitality and tourism written event; Lindsey Moser and Sarah Lahr, learn and earn project; Rick Torborg and James Gilk, free enterprise project; Tracy Stang and James Kollmann, business and financial services written event; and Rachel Gifford, entrepreneurship written event.

Earning second place honors were: Sarah Lahr, food marketing; Lindsey Moser, retail merchandising; Kurt Habben and Karl Sanborn, financial services management team; James Evans and Megan Pelz, hospitality services management team; Pelz, entrepre-neurship written event.

Third place honors went to: Kurt Habben, Minnesota free enterprise; and Julie Sixta, entrepreneurship written event.

Achieving finalist status were: Stephanie Rohe, entrepreneurship written; and Wendy Utsch, Minnesota free enterprise.

---