Mentoring program has students reaching out to students
This article submitted by Linda Stelling on 3/2/99.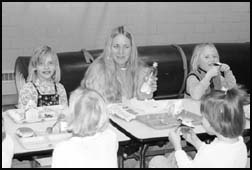 A group of senior high students head to the elementary school to meet with their younger counterparts on a weekly basis.

Through the Target Leadership program, high school students are volunteering to be 'Pals' mentors to elementary students.

The high school students can be seen eating lunch with the elementary students, helping with homework, spending time on the playground, or in the computer room.

The Pals program started the last week in January. The groundwork for the new program was started last year by Sarah Winter, former community education coordinator. She learned about the program at a workshop. Word went out to the high school students to see who would be interested in taking part in such a program.

At the same time, elementary staff members were checking through their class lists to see which students would benefit most from having an older Pal.

"We came up with more students than we had Pals, so the list of elementary students had to be narrowed down," Gary Heineman, elementary principal, said. "The elementary staff was very supportive of having a program like Pals. Some of the Pals go into the classroom to be with the youngsters because of time constraints."

Fourteen high school student's applications were accepted to be Pals. They were required to complete training with Dave Mutschelknaus, school social worker. Questions on the applications included: the students activity schedule, employment, age preference to mentor, hobbies and interests, and whether or not they had a driver's license and vehicle available to them.

Permission slips to take part in the PALS program also needed to be signed by parents of all students involved (high school and elementary).

The next step involved matching up the free time schedule (about an hour at a time) of the high school students with the elementary students. The students meet one-on-one with elementary students during the school day at the elementary school.

Helpful, but not necessary, is for high school students to have a driver's license and a car. Students without cars share rides to the elementary school with those who have cars.

High school students volunteering their time to be "Pals" are: Mary Frandson, Allison Thompson, Liz Hubert, Ginni Lahr, Zac Spates, Trisha Hemmesch, Camille Flanders, Amber Ingalsbe, Bridget Mueller, Anne Janotta, Kelly Loesch, Tiffany Rausch, Krysta Larson, and Doug Marthaler.

Frandson plans on a career in elementary education after high school. "I'm finding being a Pals mentor is a great experience. I'm having fun spending time with the first graders during their lunch period," Frandson said.

Ingalsbe says she enjoys spending time on the playground with her third grade Pal.

Guidelines for high school students taking part in the program are:
• Students need to make a one (school) year commitment to the program.

•Students will meet with their Pals three or more times a month.

•Students should journal each Pals meeting.

•Students need to show respect and sensitivity for individuals and their differences; be nonjudgmental.

•Students need to have the ability to empathize and understand another person's struggles.

•Students need to demonstrate flexibility and openness.

•Students need to be interested in helping identify and develop strengths in students.

•Students need to be good listeners and communicators.

•Students need to reflect a positive role model and healthy lifestyle.

•Students need to have a sense of humor.

•Students need to give encouragement and positive feedback to the Pals.

"Everything is being considered experimental this year," Heineman said. "We've talked about starting a similar program for several years. This is a program we've needed for a long time. It adds another dimension to helping students," he added.

"We plan on expanding the program after we have established a good rapport with the kids and their parents," Matthew Dickhausen, community education coordinator, said. Activities outside of the school day could include attending athletic events or school concerts, bowling, movies, ice cream, pizza, or going to the library.

"We have been getting positive feedback from the high school students," Dickhausen added.

Heineman and Mutschelknaus hope that the mentoring will be carried over into the summer months, outside of the school setting.

Dickhausen worked with a similar program while in college which is called, "Best Buddies." He still likes to meet with his buddy on a regular basis.