March is Minnesota FoodShare Month
This article submitted by Linda Stelling on 3/2/99.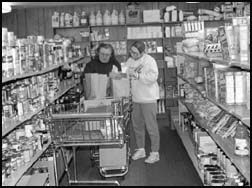 Minnesota FoodShare organizes an annual March campaign to coordinate the efforts of congregations, businesses, civic groups, and schools who seek to raise cash and food donations for food shelves across the state.

Minnesota FoodShare reaches out to Minnesotaís low-income children and their families, providing them with information on how and where to access food programs that will help them receive nutritious food.

Locally in 1998, an average of 49 households per month, used the Paynesville Community Service Center. The households totaled 157 people.

The Paynesville Community Service Center relies on the generosity of the community to help keep its shelves filled with food for the needy.

ďThe Paynesville Community Service Center is a service provided for anyone in need,Ē Julie Knutson, manager, said. ďWe, the board, have a concern that there are people in the community with a need, but that they are afraid to ask for help. Help can be given providing confidentiality to you or someone you know if needed. If you know of a person who would need the centerís services, contact the center or your local minister,Ē she added. Area pastors will direct individuals to the appropriate source using complete discretion or individuals can write to the Community Service Center at Box 194, Paynesville, MN 56362.

The center is open every Wednesday from 9 a.m. to 1 p.m. Clothing items are distributed every Wednesday. Food items are available only on the third or fourth Wednesday of the month.

Individuals and organizations can also drop off donations between those hours or make arrangements with Knutson for other times.

Among the groups helping collect food donations for the center are the Paynesville Cub Scouts and Boy Scouts, Koronis Eager Beaver 4-H Club, and Koronis Konquerers 4-H Club. Grocery carts can also be found at area churches.

On Sunday, March 14, at 7 p.m., the Paynesville and Willmar UPS employees will host a night of entertainment at Northern Lights with proceeds being donated to the food shelf.

Entertainers include: Jennifer Bergstrom, Bob Gardner, String Oí Pearls, Robyn Spaeth, Mike Noonan, Jean Nichols, Terry Nelson, Roy Colbert, and the Paynesville Lutheran Church band.

Emcees for the evening are Leanne Tangen and Bob Gardner. Tangen says there will also be a surprise entertainer performing.

The cost of the evening is $10 per person which includes one free refreshment. Advance tickets can be purchased at Wallyís G&T, from any UPS employee, or at Northern Lights.

During FoodShare Month the Paynesville Area Elementary, Middle and High School students will be asked sometime during the month to bring nonperishable food donations to school.

The Paynesville Area Middle School will be holding their annual food shelf drive and contest throughout the month. Students will be asked to bring food items to their Primetime. The Primetime collecting the most food items by the end of the month will receive special recognition.

Board members overseeing the Paynesville Community Service Center are: Audrey Olmscheid, Rose Korten, Wally Thyen, Don Anderson, Don Sonstegard and Rick Hoyme.

During FoodShare Month, all donations (cash or food items) are matched by corporations.

In 1998, $4.3 million pounds of food were raised (one dollar equals one pound of food).

People using food shelves report their income resources are not enough to meet their basic needs. Low wages without benefits, child care expenses, unemploy-ment, high housing costs, and high out-of-pocket medical expenses make working families vulnerable to hunger.

Did you know...

ēIn 1997, one in 18 Minnesotans relied on food donations from a food shelf.

ēTwo-thirds of the households using food shelves include children under the age of 18.

ēOf all visits to food shelves in 1997, 12 percent were by people over 62 years old.

ēIn 1997, food shelves statewide distributed over 24 million pounds of food.

---