FLA/FHA attend mid-winter meetings
This article submitted by Michael Jacobson on 3/2/99.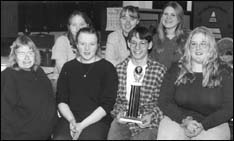 Sixteen members of Paynesvilleís junior and senior high Future Leaders of America/Future Homemakers of America chapters attended the Region 5 Mid-Winter Meeting at Dawson-Boyd High School in Dawson on Saturday, Feb. 20.

The theme for the year was ďRisk Today, Succeed Tomorrow.Ē The meeting lasted from 9 a.m. to 3 p.m. and included promotional skits by various chapters, a talent show, the election of new officers, and the STAR Event competition. Junior Amanda Reeck was elected the vice president for the region.

More than 400 students competed in the STAR Event competition. The senior high, pictured right, had three gold medal winners: Rachel Gifford in job interview, Cheryl Guenther in technology, and Reeck in job interview. These gold medal winners advanced to the state competition held April 22-24 at the Radisson South in Bloomington. Around 3,000 students are expected there.

Silver medal winners for the senior high were: Amy Schoenherr for an illustrated talk on stress management; Lynn Vadner and Ranae Bengtson for an illustrated talk on child safety; and Rachel Gifford, Jesse Neu, Amanda Reeck, Darla Schmitt, and Amy Schoenherr in parliamentary procedure team.

Alyscia Braun won a bronze ribbon for her illustrated talk titled ďI Am Unique.Ē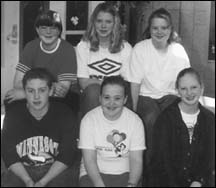 All seven junior high members, pictured left, competed together as a team in parliamentary procedure. Trevor Palmer was the president, Ashley Hoglund the secretary, Melissa Kolb the treasurer, and Trisha Wendlandt and Heather Ford were members. Katie Herding was the team manager and door monitor, and Misty Johnson was the room consultant. They earned a silver award.
The senior high is advised by Karen Odberg, and the junior high by Jeanne Virant.
Volunteer judges from the community were Don Neu, Sarah Schmiesing, Janet Gifford, Denise Olson, and Karen Mutschnelknaus.
---