Dr. Novak coming to Paynesville on Wednesdays
This article submitted by Linda Stelling on 3/2/99.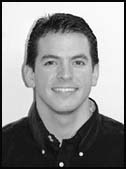 In early February, Dr. Mike Novak, Spicer, started making regular visits to the Family Eye Center in Paynesville.

Dr. Novak and Dr. Randy Norris, Willmar, consolidated their practices to better serve Paynesville, Willmar, and the Olivia area.

A native of Montevideo, Novak is a 1991 graduate of Gustavus Adolphus College and a 1995 graduate of an optometry school in Chicago.

At present, Dr. Novak spends Wednesday mornings seeing people at the Family Eye Center in Paynesville. ďSome day we hope to expand my time in Paynesville as the patient load increases,Ē Dr. Novak said. Dr. Norris holds office hours on Tuesdays and Thursdays at the Paynesville office.

ďMy goal is to get to know the community and to continue the quality care Dr. Norris has built up over the years,Ē Dr. Novak said.

Dr. Novak added he would like to become involved in the community.
---