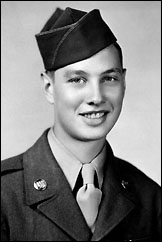 On Valentine's Day, while he was visiting his son in Mesa, Ariz., former local educator and businessman Donald Pederson died at the age of 76.

Don was an assistant principal, business teacher, and administrator for the Paynesville School District #741. He also owned, with his wife Maurine, Pederson's Unlimited - which makes sports uniforms, including hockey jerseys for the 1984 U.S. Olympic gold medal-winning team and replicas of the jerseys worn by the 1980 team.

Don Pederson, who served in the Army from 1946-48, was a teacher and administrator for the Paynesville School District for 16 years. He also owned Pederson's Unlimited, a business that makes hockey jerseys.

Don was raised in Lakefield, Minn., left in 1946 to join the military, and served in Italy until 1948 when he returned to Minnesota. He married Maurine, a girl he first met in high school in 1950 while still attending college.

The couple lived in Worthington, Bellview, and Adrian while Don pursued his bachelor's degree and eventually his master's degree. During this time Don worked as a photographer for a local newspaper, a lineman for the phone company, and eventually as a teacher while the couple raised two sons.

In 1966, Don was offered a job in the Paynesville School District. For the next 16 years, Don served the Paynesville schools as an assistant principal, business teacher, federal programs coordinator, and girls' golf coach. He also started the school's audio-visual program and eventually created the city's first local cable access channel, which at that time, was broadcast from the high school.

According to Maurine, Don's influence on his students encouraged some of them to pursue professions in television.

Back in the 1960s, the school district still had several rural schools, and as the federal programs coordinator, one of Don's jobs was to visit those schools and see to their needs. This was one part of his job he particularly enjoyed, said Maurine.

Don retired from the school district in 1982.

In 1979, before he retired from teaching, Don and Maureen started Pederson's Unlimited. Originally the business was located in the current Central Minnesota Federal Credit Union building in downtown Paynesville. Later the business was moved to the Pederson's home.

At first, Pederson's Unlimited made baseball and basketball uniforms, but later specialized in hockey jerseys. Pederson's Unlimited has made hockey jerseys for the North Stars (while they were in Minnesota and also since the team moved to Dallas) as well as for the 1984 U.S. Olympic hockey team. Though the business did not make jerseys for the 1980 Olympic hockey team, it does still make replicas of that team's uniforms.

Don never really retired from the business. He did the books and took orders for Pederson's Unlimited until he died.

Don enjoyed photography and he especially loved taking photos of his sons, Gordon and Robert, and his three grandchildren. He also liked to hunt and fish and especially liked to golf.

Don also liked carpentry. In fact, he finished his home after contractors built the shell. He also loved to sit in that house and listen to Maurine practice playing the organ. As he got older, Don also enjoyed gardening, and delighted in landscaping their home and filling it with plants, said Maurine.
---
Contact the author at editor@paynesvillepress.com • Return to News Menu
Home | Marketplace | Community
---