Forty members of the Seventh and Eighth Grade Choir at Paynes-ville Area Middle School staged "The Music Man Jr." last week in the school auditorium.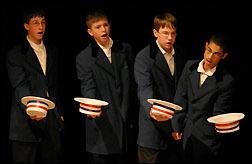 The choir presented the musical on Thursday night to the public, on Friday to the elementary and middle school students, and again on Friday night to the public. The total attendance for three performances was estimated between 750 and 900.
David Ruprecht, Jordan Severance, Matt Everson, and Adriano Ihrke sing in a barbershop quartet.
"The Music Man Jr." is a shortened version of the full-length Broadway production in which the fast-talking salesman Harold Hill (Ezra Thompson) comes to River City, Iowa, to sell his "think-system" band method and ends up falling in love with Marian Paroo (Kaitlin Burlingame), the town librarian and piano teacher.
Many of the songs and portions of the original script from the full-length musical were included in The Broadway Junior version, which is geared toward students ages 8-14 and ran just over an hour.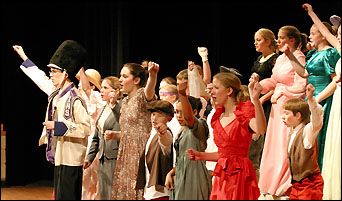 Doing a musical was just something extra for the Seventh and Eighth Grade Choir this year, said choir director Cheryl Bungum, who is directing the musical and is also having the Sixth Grade Choir stage a short musical, "We Haz Jazz," on Monday, March 14.
Harold Hill (Ezra Thompson) leads the people of River City, Iowa, after convincing them to fund a band.
Bungum was pleased with the production of "The Music Man Jr." "I was very proud of all of the students' hard work," she said. "They are a very talented bunch, and all of their hard work paid off in the end. I hope this experience sparks interest and enthusiasm in many of them to try other things like this in the future."
"The experience of working so hard together on the different aspects of a musical also created a bond that does not happen in regular choir rehearsals. Many of them have grown greatly in confidence and expression," added Bungum.
Auditions for parts were held in December, and the choir members began rehearsals in January. They rehearsed during the choir's regular school period and held additional practices at night.
"The Music Man Junior," a part of The Broadway Junior Collection™, is presented through special arrangement with and all authorized performance materials are supplied by Music Theatre Inter-national, 421 West 54th Street, New York, NY 10019.
Cast of Characters
The Music Man Junior
Harold Hill: Ezra Thompson
Marian Paroo: Kaitlin Burlingame
Charlie Cowell: Michael Vaske
Mayor Shinn: Jared Eickhoff
Eulalie Mackecknie Shinn: Karla Leitzman
Marcellus Washburn: John Buermann
Ethel Toffelmier: Callie Bennett
Mrs. Paroo: Heather Rondeau
Winthrup Paroo: Sam Bungum
Amaryllis: Christy Escalera
The Quartet
Jacey Squires: Adriano Ihrke
Ewart Dunlop: Matthew Everson
Oliver Hix: Jordan Severance
Olin Britt: David Ruprecht
Tommy Djilas: Hayden Spaeth
Zaneeta Shinn: Mariah Fuchs
Gracie Shinn: Holli Kern
Pick-A-Little Ladies
Alma Hix: Jayna Flanders
Maud Dunlop: Ariel Jones
Mrs. Squires: Laura Binsfeld
Other Ladies: Alicia Leyendecker, Kelsey Miller, McKenzie Quade, and Aly Schultz
Conductor: Zach Cole
Constable Locke: Eric Fenske
Traveling Salesmen: Dillin Christinsen, Matthew Everson, Eric Fenske, Adriano Ihrke, Alicia Leyendecker, David Ruprecht, Brent Schlangen, Travis Schmidt, Jordan Severance, and Brandon Solem
Dancers: Carmen Barg, Callie Bennett, John Buermann, Dillin Christinsen, Alexa McCorquodale, David Ruprecht, Brent Schlangen, Aly Schultz, Brandon Solem, Briana Temple, Michael Vaske, and Angel Willemsen
Wa Tan Ye Girls: Rachel Hasbrook, Heidi Kuhl, Anne Nihart, and Kayte Thompson
Boys' Band: Zach Cole, Travis Schmidt, Brent Schlangen, Brandon Solem, and Hayden Spaeth
Townsperson: Shanna Hoekstra
Director: Cheryl Bungum
Stage Manager: Brianna Fischbach
Costumes: Colleen Pelton, Deb Bennett, and Jane Ruprecht
Set and Props: Robyn Spaeth and Gretchen O'Fallon
Technical Support: Brett Bungum, Sam Bungum, Ian Pelton, and Shawn Reinke
Sound: Peder Thompson
Lighting: Cheryl Bungum

---
Contact the author at editor@paynesvillepress.com • Return to News Menu
Home | Marketplace | Community
---