The Paynesville Area Middle School Seventh and Eighth Grade Choir staged "Fiddler on the Roof Junior" over the weekend in the school auditorium. Nearly four dozen choir students presented the musical on Friday during the school day for the other middle school students and in public performances on Friday and Saturday nights that drew around 600 people.

This is the second straight year that the choir has presented a musical. Last year choir members performed "The Music Man Junior."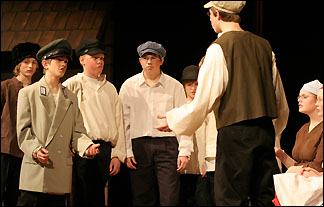 "Fiddler on the Roof Junior" is a one-act edition of the well-known Broadway musical, which was made into a movie in 1971. The Broadway version won nine Tony Awards in 1964, including Best Musical. The film version was nominated for eight Academy Awards, including Best Picture, and won three, but not Best Picture.
Constable (Trevor Spanier) informs the Jewish residents of Anatevka - from right, David Ruprecht, Mitchell Meed, Matt Everson, Matthew Lenzmeier, and Cody Lieser - that they must leave their village, bringing "Fiddler on the Roof Junior" to a conclusion.
Familiar songs in "Fiddler on the Roof Junior" include: "If I Were a Rich Man," "Matchmaker," "Sunrise, Sunset," and "Tradition."
All of the students in the choir participated in the production. Auditions for the main parts were held in December, and cast rehearsals began after Christmas vacation in January. The students practiced both during the regular school day in choir lessons and in the evening.
The play is set in a Jewish village in Czarist Russia (circa 1905), starring milkman Tevye (David Ruprecht), his wife Golde (Mariah Fuchs), and their five daughters (Tzeitel, Kristine Hoeft; Hodel, Jackie Skoglund; Chava, Aly Schultz; Shprintze, Josie Magnan; and Bielke, Christy Escalera).
In the face of the changing times, Tevye is forced to choose between his Jewish traditions and his daughters' wishes, especially when it comes to love and marriage. At the end of the play, the entire village is forced to leave, further splitting the family and friends.
"The kids did a great job, and it all came together," said choir director Cheryl Bungum. "I think it gives them a sense of pride (to do a musical)."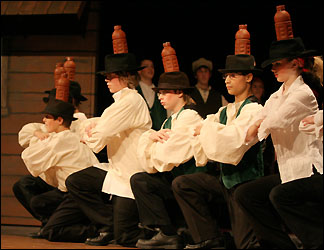 Bungum, in addition to students and parents for their hard work and time, thanked all the community help to make the musical look so good, from the dramatic lighting to the authentic sets and costumes. The professionalism of the setting added to the stage experience for the students, which is a prime reason for staging a musical, she said.
Bottle dancers during a wedding scene included, from right, Kristyn Osterhaus, Adriano Ihrke, Brent Schlangen, Zach Cole, and Trevor Spanier.
"Fiddler on the Roof Junior" will take the place of the seventh and eighth grade choir's spring concert.
"Fiddler on the Roof Junior" is part of the Broadway Junior Collection. It was presented through special arrangement with and all authorized performance materials are supplied by Music Theatre International, 421 West 54th Street, New York, NY 10019.
Cast of Characters
Fiddler on the Roof Junior
Tevye: David Ruprecht
Golde: Mariah Fuchs
Tzeitel: Kristine Hoeft
Hodel: Jackie Skoglund
Chava: Aly Schultz
Shprintze: Josie Magnan
Bielke: Christy Escalera
Motel: Michael Vaske
Perchik: Sam Bungum
Lazar Wolf: Zach Cole
Fiddler: Jessica Briggs
Yente: Briana Temple
Constable: Trevor Spanier
Fyedka: Adriano Ihrke
Mordcha: Mitchell Meed
Yussel: Randy Shelton
Rabbi: Matthew Lenzmeier
Mendel: Matt Frenchick
Avram: Matt Everson
Sasha: Brent Schlangen
Russians: Cody Lieser and Jon Solum
Women: Melissa Hawkinson, Janice Boeck, Jenna Kiffmeyer, and Kayla Youngs
Men: Cody Lieser and Ethan Brown
Papas: Ethan Brown, Adriano Ihrke, Matthew Everson, Matthew Lenzmeier, Cody Lieser, Randy Shelton, Jon Solum, and Hayden Spaeth
Mamas: Janice Boeck, Kelli Fuchs, Rachel Fuchs, MaKayla Gottwald, Melissa Hawkinson, Jenna Kincade, Crystal Roberts, Alyssa Schmid, Briana Soine, Megan Wolters, Megan Wuertz, and Kayla Youngs
Daughters: Shelby Goltz, Taylor Hendrickson, Greta Keller, Holli Kern, Jenn Kiffmeyer, Emily Magedanz, Kristyn Osterhaus, Holly Twedt-Coulter, Bridget Weber, and Brianna Zenner
Sons: Matt Frenchick, Mitchell Meed, Brent Schlangen, Trevor Spanier, and Tanner Wendroth
Bottle Dancers: Zach Cole, Melissa Hawkinson, Adriano Ihrke, Greta Keller, Mitchell Meed, Kristyn Osterhaus, Brent Schlangen, Randy Shelton, Briana Soine, and Trevor Spanier
Matchmaker Dancers: Christy Escalera, Shelby Goltz, Kristine Hoeft, Greta Keller, Emily Magedanz, Josie Magnan, Aly Schultz, Jackie Skoglund, and Brianna Zenner
Director: Cheryl Bungum
Stage Managers: Brianna Fischbach, Karla Leitzman, and Lauren Vaske
Set Construction: Ian Pelton
Set Design: Gretchen O'Fallon
Flat Construction: Jeff Ruprecht, Terry Skoglund, and Jennifer Temple
Painting: Russell O'Fallon, Jennifer Temple, and Joe Williquette
Props: Robyn Spaeth
Lights: Ian Pelton, Mike Putzke, and Jeremy Schmidt
Costumes: Colleen Pelton
Sewing: Lonnie Lien, Marsha McCarney, Judy McCoy, Jane Ruprecht, Robyn Spaeth, and Shelby Vaske
Backstage Help: Bryce Fischbach, Robyn Spaeth, and Jennifer Temple
Sound: Cheryl Bungum
Digital Photography: Jeff Ruprecht
Technical Support: Brett Bungum and Ian Pelton
---
Contact the author at editor@paynesvillepress.com • Return to News Menu
Home | Marketplace | Community
---