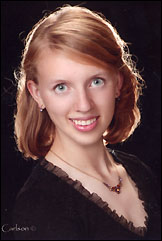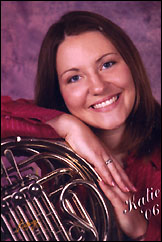 Megan Reeck (left) and Katie Schlick (right), both seniors at Paynesville Area High School, will try to become Stearns County Dairy Princesses on Saturday, March 4.

The 52nd annual competition will be held at the Freeport Community Center on Saturday with dinner at 7:30 p.m., coronation around 9 p.m., and social to follow. Tickets are $10.

Nine princesses will be crowned out of 17 candidates, with the others becoming dairy ambassadors.

Dairy princesses and dairy ambassadors promote dairy products and understanding of the dairy industry throughout the year. Each candidate is asked to compare herself to a dairy product.

Reeck, the daughter of Gary and LuAnne Reeck of Paynesville, compares herself to drinkable yogurt because of the dynamic flavors and varieties. She feels that her personality is dynamic and she does a variety of different activities.

Schlick, the daughter of Joseph and Mary Jo Schlick of Paynesville, compares herself to yogurt. Yogurt, she explained, comes in many different flavors so everyone can find at least one they enjoy with its sweet taste, creamy texture, and its many vitamins and minerals.

"I feel I have a great personality for everyone to enjoy, and yogurt is a very quick snack that always seems to be a little pick-me-up treat for me when I am busy and on the go," she said. "Grab some yogurt and enjoy!"

Reeck belongs to 4-H and has held numerous offices; she is currently her club president, a state ambassador, and county president. She also has won numerous ribbons in county and state 4-H competitions.

At PAHS, Reeck is a member of the National Honor Society, is vice president of the Paynesville Area FFA Chapter, is a member of the student council, belongs to SADD, is a peer helper/tutor, and serves on the curriculum advisory committee. She plays in the band, participates in theatre, was captain and choreographer for the dance team this winter, and has run track.

Her awards include runner-up in a national essay contest in 2003, Stearns County Outstanding Junior Leader, All Conference in dance team in 2006, and five-time winner of the Minnesota State Fair Award of Excellence.

Megan also volunteers at church and helps on her family's farm in Zion Township. Other leisure activities are artistic endeavors, especially fine arts, public speaking, band, and theatre; running; and dance.

Next year, Megan plans to attend the University of Minnesota-Twin Cities to study applied plant science and minor in international agriculture. Her goal is to be a positive contributor to the field of agriculture.

Her sponsor is Klaphake Feed Mill, Inc.

Schlick participates in youth ministry, sings in youth choir, and serves on the parish council at St. Martin Catholic Church.

At PAHS, she has participated in one-act play, has served on the prom committee, belongs to the National Honor Society, participates in FCCLA (Family, Career, and Community Leaders of America), and has been chosen as Girls Stater. She has been chosen to be a piano accompanist for the Minnesota Music Teachers Association and took sixth place in the Minnesota Brain Bee last year.

In her leisure time, she enjoys playing piano, baking, listening to music and singing, watching movies, sledding, swimming, working, and talking with friends.

The Schlicks also farm in Zion Township.

Next year, Katie plans to attend the College of St. Benedict to study nursing. She hopes to work as a registered nurse in a hospital.

Her sponsor is St. Martin Co-op.
---
Contact the author at editor@paynesvillepress.com • Return to News Menu
Home | Marketplace | Community
---