New Richmond Clinic gets rave reviews
This article submitted by Michael Jacobson on 3/1/00.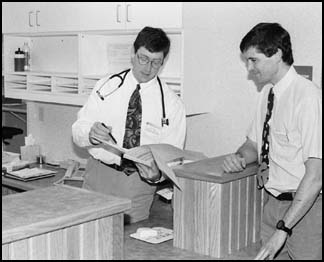 After months of construction, the new Richmond Area Medical Clinic opened on Monday, Jan. 17. So far, response to the new building, located along County Road 9, has been very favorable, according to Paynesville Area Health Care System administration and providers.

"It's beautiful," Dr. Allan Solum told the hospital board in February. "It's luxurious to be in it."

The clinic has two waiting areas, a large procedure room, three offices, and eight exam rooms, including one geared for pediatrics. The old Richmond clinic building, which the Paynesville Medical Clinic purchased in 1985 and the PAHCS purchased when the clinic and hospital merged five years ago, had only two exam rooms.

Medical student Bob Berg (left) consults with Dr. Randy Zimmerman last week while working at the Richmond Area Medical Clinic.

Having just two exam rooms wasn't very efficient and led to waiting, both for patients in the waiting room and staff on tests results.

The Richmond Area Medical Clinic is served by Dr. Solum, Dr. Randy Zimmerman, and Shari Heitke, nurse practitioner. It also offers physical therapy in the afternoons and pharmacology two mornings a week.

"It's a big improvement," said Bob Berg, a third-year medical student who works with Dr. Zimmerman at the clinic. "This clinic is actually very impressive for its patient capacity and equipment."

"Centralization is really nice," added Dr. Zimmerman. "I'm not sure I'd want to go back to practice in the old clinic."

The new Richmond Area Medical Clinic has a larger laboratory, a new x-ray machine, and a physical therapy department. These areas are designed to service up to five doctors, but currently the clinic only has exam rooms for three. Adding more exam rooms for more doctors is far easier than expanding centrally-located service areas.

The permanent x-ray machine has not arrived yet, one of the last pieces of the puzzle. Right now, PAHCS's vendor has loaned them a temporary x-ray machine for use until it arrives.

Physical therapy used to be done at another site in Richmond. Having it on site allows for better communication between the doctor and the therapist, and makes it easier for patients, according to Scott Liebl, a physical therapist who is scheduled in Richmond three afternoons a week. He is available by appointment the other two afternoons.

"We have a lot more floor space," Liebl said of the new physical therapy department, "so we can treat a lot more conditions." He called the two Biodex strengthening machines in the clinic "cream of the crop" and said they can strengthen every muscle. He added that the physical therapy department at the new clinic is nicer than the home department in Paynesville.

Speech and occupational therapy also serve the Richmond Area Medical Clinic as needed by appointment.

Having all the services together also improves efficiency and quality of care. One stop shopping is what Rosemary Devlin, clinic manager for PAHCS, called it.

Devlin said the staff, who didn't work under the best of circumstances before, appreciates the new building. "They absolutely love it," she added. "They are so happy."

Devlin has received calls in Paynesville from patients who are impressed by the new clinic. "It's going to appeal to more people," she said. "Everything in there is state of the art."

Over the last month, the number of clinic visits in Richmond is up 20 percent, according to Devlin. "The numbers in Richmond have definitely gone up because they can accommodate more patients and because people are pleased to go there," she said.

"We've been picking up new patients steadily," agreed LaCroix, who added that the volume at the clinic could double within the next two or three years.

PACHS has signed three doctors and a physician's assistant to join the system next summer. The new providers will allow for at least one more day of physician coverage at the Richmond Area Medical Clinic.

Open house set for Sunday in Richmond The Paynesville Area Health Care System invites the public to tour their new Richmond Area Medical Clinic at an open house on Sunday, March 5, from 11 a.m. to 2 p.m.

Guided tours of the clinic will be offered by the doctors, clinic staff, and administration.

Free health tests like blood pressure checks and blood sugar tests will be offered, along with refreshments.

"People are going to have a great time," predicted Rosemary Devlin, clinic manager for PAHCS. "Plus, we have a little give away."

The new clinic is located on County Road 9 and First Street NE in Richmond.
---