Foggy weather closes area schools
This article submitted by Linda Stelling on 3/1/00.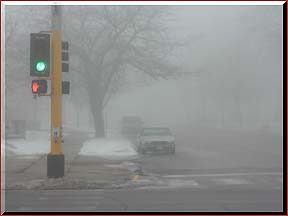 Thick fog blanketed central Minnesota for several days last week, causing school delays, school closings, and cancelling activities.

On Thursday, more than 30 schools closed for the day and about another 100 had two to three-hour late starts.

Dense fog was the cause of a school bus accident which injured 18 children near Sandstone Wednesday morning. A 16-year-old driver ran a stop sign which he apparently did not see in the fog, hitting the school bus and pushing it into a ditch.

The Minnesota State Highway Patrol in St. Cloud reported that on Tuesday, the first foggy day, they had more accidents in central Minnesota than any other day of the week, with 20 being reported. Of the 20 accidents, 10 had injuries. Over the remaining foggy days, they recorded only four or five accidents each day which is normal, the patrol dispatcher said

"When to close school is a hard decision to make," Phyllis Nielsen, owner of Paynesville Motor and Transfer, said.

She talked with Superintendent Howard Caldwell at 5 a.m. Friday about the weather, the third day of dense fog. They decided to have a two-hour late start, but by 8:30 a.m., there was no sign of the fog lifting. "Usually by 9 a.m., the fog lifts; however, last week it didn't seem to lift. On Thursday, the fog was thicker at 3 p.m. than at 8 a.m. when we called school off," Nielsen said.

"Safety is our main concern," Nielsen added. One bus driver had a near accident on Wednesday on Highway 23 which left him shaken.

In bad weather, Allen Theel, a bus driver, usually goes out, driving different roads within the school district, to check for visibility at about 4:30 a.m.

"We have a large district. Just because the fog might have cleared a little in one area, that does not mean all areas are clear," Nielsen stressed.

"We have to ask ourselves if there is enough visibility for motorists to see us on the highway. Will the motorists be able to see the children crossing the highway to the bus? We are the only ones who come to a complete stop on the highway," Nielsen said.

Nielsen agreed with others that this has been an unusual winter.

Caldwell doesn't remember having to call school on account of fog before. "We have had several late starts before as the fog usually lifted and wasn't a problem," Caldwell said.

"Fog is becoming a more recent phenomenon. People are finding fog a nuisance. With more vehicles on the road and traveling at higher speeds, fog has become a dangerous situation," Caldwell said.

"People are driving at 55 miles per hour in the fog. People are not always aware of buses on the road. They are not able to stop for a school bus which has stopped to pick up students," Caldwell added. "This puts students and everybody else at risk."

Before calling school off, Caldwell said he usually calls around to area school districts to see what the weather conditions are in their districts. He checks with the meterologist to see if the weather patterns will be moving out soon and he talks with the bus company.

"This year we had three days built into the school calendar as snow make-up days. Teachers will need to make up these days, but not the students. The first two days are March 3 and 20," Caldwell explained. "We still could have some bad weather during the next month. Then the next make-up day is April 24, Easter Monday."

Marlene Theel has been a bus driver 27 years and can vaguely remember closing school for fog many years ago.

Don Torbenson, former school superintendent does not recall the school closing for fog before. "We delayed the start of school for an hour or two. The fog usually cleared up and we sent the buses out," he said.

Torbenson recalled that in the winter of 1965, school was closed for more than a week due to heavy snowfall.

"I do remember closing school for ice but never fog," he added. "This has been a very unusual winter, maybe it is the start of something new."

Donna Ahrens, district secretary doesn't recall the district ever closing for fog in February. "We have had late starts before, but I think the accidents around the state made us more cautious," she said.

"We have school buses crossing three major highways," Ahrens said. Ahrens, who lives north of Paynesville, felt the fog was thicker near Paynesville than it was when she left home.

According to Robert Weisman, meterology professor at St. Cloud State University, this hasn't been the longest stretch of fog for central Minnesota. In 1991-92 the area experienced 15 straight days of fog over the Christmas holiday and into the new year.

"We need a good strong cold front to come through and move the warm air, which is creating the fog, out of the region," Weisman said.

"Fog is basically a cloud on the ground. It is created when warm air sits over cold air which is on the ground. Fog hangs around because the air is stagnant and not moving," he said.

"The warmer temperatures were melting the snow, putting more moisture into the air," Weisman said. "The air was saturated with moisture."

Weisman said his students noted that St. Cloud was the coldest area in the state on Tuesday, the first day of the fog cover, with temperatures in the 60s in southern Minnesota and in the 50s at International Falls. St. Cloud recorded a high of 34 degrees.

"We basically need drier air at ground level. The air at 5,000 feet has been in the 50s most of the week. All the moisture is below 1,000 feet," Weisman said. "This fog pattern is notorious for not being predictable."

Weisman said the fog cover extended from Jamestown, N.D., across central Minnesota to Rice Lake and Hayward, Wis.

Weisman feels the backbone of winter is broken with this fog pattern and thunderstorm last week. "We need moisture as the ground is dry," he added.
---