Gray hired as R.O.S.E. Center's new director
This article submitted by Linda Stelling on 3/1/00.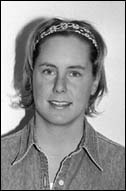 Plans are moving forward for the Paynesville Living at Home Block Nurse Program (LAH/BNP). Karlene Gray, Paynesville, was hired recently as the new program director.

The city of Paynesville received a $40,000 grant in November to help get the program off the ground. A steering committee was told it usually takes about a year to get the program started, then nursing services are added.

"We are going to call our local program, R.O.S.E. Center," Gray said. "This stands for Reaching Out to Seniors Effectively."

Gray said the purpose of R.O.S.E. Center is to enable seniors to live comfortably in their homes longer. "We will do this by providing services to meet any needs they may have," she added.

The mission of R.O.S.E. Center is to establish a community based network of volunteers and professionals to provide services to Paynesville adults which will support independent living.

"I'm in the process of learning who the senior citizens are in the community, Gray said. "Then we will introduce them to R.O.S.E. Center and the Paynesville Living at Home Block Nurse program."

A questionnaire will be sent out to area senior citizens asking them what type of services they would like to see. The questionnaire will also ask them to list things they enjoy doing, any needs they may have, any information they may want to share.

If a senior needs their sidewalks shoveled, help in their garden or possibly a ride, or a delivery, we will try our best to provide them this service, Gray said. In the near future, we will be enhancing our program with health care abilities.

Volunteers are covered under an umbrella insurance program so if something would happen while they are volunteering for R.O.S.E. Center, they are not liable.

"We are here for family members needing a break from the care routine of an elderly parent, or from their children," Gray said. "We encourage people to call if they know someone who needs help, and maybe we can fill that need. We will do our best to meet their needs," she added.

According to an outline of the LAH/BNP, some unique features are:

•Recognizing elders as community resources and assets, rather than "the old and needy."

•Stimulating neighborly expressions of caring and friendship.

•Drawing upon community commitment to senior citizens by involving service groups, churches, businesses, and schools.

•Including any person over age 65 living in the community, regardless of ability to pay or eligibility for reimbursement.

•By not duplicating existing services but collaborating with other existing agencies and services where appropriate.

•Strengthening the ability of families to meet the needs of their older family members.

•Organizing services usually not paid for by Medicare and Medicaid.

•Emphasizing health promotion, early intervention, management of chronic disease and disability, and outreach tailored to meet individuals' needs.

•Maximizing current funding and developing new private and public funding sources.

Gray grew up in the Paynesville community. She is the granddaughter of Shirley Sundstrom and Lura Webb. After moving around the United States quite a bit working with Northwest Airlines, she and her husband, Robin, returned to Paynesville. They have two children, a daughter Bailey, 5 and a son Hudson, 2.

"I'm excited about my new position. It will be a lot of fun working with area residents. In the future, we will be looking at hiring a volunteer coordinator who will be in charge of coordinating all the volunteers and where they will be day to day," Gray said.

R.O.S.E. Center is part of the Paynesville Area Center. Gray has flexible office hours and can be reached by calling the center, 320-243-4799.
---