Marine mechanic joins Sport Center staff
This article submitted by Linda Stelling on 2/28/01.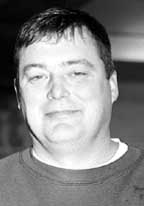 Jeff Cigelske, Albany, joined the staff at Paynesville Sports Center in January as a marine mechanic.

"I feel like I've come full circle," Cigelske said. After graduating from Detroit Lakes Vocational School in 1980, his first job was in Paynesville with Vern Johnson Motors .

Cigelske has been repairing boat motors since he was in high school. "It was a hobby when I was younger," he said. "I was told never to let a hobby become your career."

He isn't disappointed with turning his hobby into a career as it still offers constant changes and challenges.

Cigelske is recertified every two years by Mercury Marine and receives update courses on Yamaha equipment.

According to Cigelske, the boat and snowmobile industry is changing constantly. Emission standards are becoming stricter on boat motors just like cars. "What we have now will be outdated in five years," Cigelske said.

Some of the newer motors require a computer to make repairs. When an engine overheats, the computer will be able to tell the mechanic how often, how long, and at what temperature it overheated. The computer can also make thousands of adjustments per second to the motor if needed.

Cigelske works 8 a.m. to 6 p.m. from Mondays through Fridays and 8 a.m. to 4 p.m. on Saturdays.
---