Residents with a love for plants and gardening have a new forum for learning and sharing their skills - the Paynesville Area Garden Club.

The club was organized last fall by master gardeners Urban and Doreen Fuchs because they felt a need for it in the area. As far as Urban knows, there hasn't been an organized garden club in Paynesville since the 1950s, when there was an active men's club.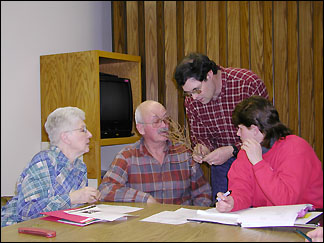 Club members will meet once a month to share ideas and to learn from demonstrations on topics such as pruning, seed starting, and container gardening.
The club will also maintain planters in front of area businesses - a task Urban and Doreen have taken on themselves for the past few years with help from friends and students - and help with other public gardening projects when the need arises.
Adrian Louis gives a pruning demonstration at a recent meeting of the Paynesville Area Garden Club. The new club will host demonstrations on topics such as seed starting and propagation.
As master gardeners, Urban and Doreen teach gardening classes through Community Education. Many of their students were interested in forming a garden club, and Urban thought that having a club would be a real asset to the area.
Now retired, Urban used to travel as part of his job. He said it was evident when he was in a city with some kind of garden club. Not only did downtown areas look nice, but homes seemed to be better tended than in cities without such clubs, he said.
Urban and Doreen were already active members of the St. Cloud Flower and Garden Club, so they had an idea how to go about organizing a local club.
With the help of some former students and contacts made through the Minnesota Horticultural Society, the first meeting of the Paynesville Area Garden Club was held in October. Since then the club has grown to 14 members with various gardening interests and levels of experience. Most of the members are from the Paynesville area, but there are also members from Belgrade and Brooten.
Members Sharon Dittman and Ramona Frank both are interested in flower gardening while Urban likes working with fruit trees and vegetables.
Dittman, who took a Community Education class with Urban and Doreen, likes to share her gardening experiences and said she learns a lot from casual conversation with others who also have a love for gardening.
Besides the educational possibilities, Frank likes the social aspects of belonging to a club where she can make new friends with similar interests.
Another perk to belonging to a garden club, according to Doreen, is the opportunity to see firsthand what other gardeners are doing. "I love seeing other people's gardens," she said, noting that club members will have the chance to take part in garden tours and programs sponsored by surrounding garden clubs.
The Paynesville Area Garden Club meets on the third Thursday of each month at the Paynesville Area Center at 7 p.m. New members are always welcome. The club's mission is: "To promote gardening as a fun experience and beautification and to share gardening knowledge and skills with others."
---
Contact the author at editor@paynesvillepress.com • Return to News Menu
Home | Marketplace | Community
---