2nd annual chess tourney held Saturday at PHS
This article submitted by Linda Stelling on 2/24/98.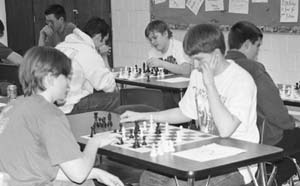 Sixty-five individuals competed in the second annual chess tournament Saturday, Feb. 21, at the Paynesville Area Middle School.

Participants ranged in age from six and up. Age categories were 0 to 8 years; 9 to 13 years; 14 to 18 years and 19 and older.

ďThe tournament was meant to encourage chess play and to give friends and families an opportunity to participate in a wholesome activity,Ē Jay Thompson, organizer, said.

Participants played in a ďSwiss-styleĒ tournament consisting of five rounds. The computer paired up, chose colors and kept track of cumulative scores. Games were limited to 30 to 45 minutes.

Among the communities represented in the tournament were: Hinckley, Brainerd, Willmar, Litchfield, Mora, Long Prairie, Becker, Grey Eagle, Benson, Little Falls and Sauk Rapids.

A ďspeed chessĒ tournament was held with 35 participating in the single elimination event. Each player was allotted five minutes on a clock.

Winners of the speed chess were: Thomas Thompson, (adult) Benson; Reed Sorensen, (9 to 13-year-old group) Long Prairie; and Doug Millner, (14 to 18-year-old group) Paynesville.

ďIt was very fast paced and noisy,Ē Thompson said. ďThe tournament went very well even if it is hectic the first hour.Ē

Top five in each age group were:
0 to 8 years old: Ezra Thompson, Paynesville, (undefeated); Zeb Hackett-Reicher, Sauk Rapids, Ben Jakabowski, St. Cloud, Ian Bell, St. Cloud, and Riley Sampson, Paynesville.
9 to 13 years old: Reed Sorensen, Long Prairie; David Fake, Willmar, Jacob Teichroew, Mora, Nathan Gilbert, St. Cloud and Andrew Mahowald, St. Cloud.
14 to 18 years old: Kevin Beal, Hinckley, Jonathan Teichroew, Mora, Andy Burkhardt, Hinckley, Jon Millner, Paynesville, and Andy Brick, Paynesville.
19 and older: Jorn Commers, Clear Lake, Thomas Thompson, Benson, Torben Kiese, St. Cloud, Scott Hupka, St. Cloud, and Marty Mahowald, St. Cloud.

---