Former Paynesville businessman Don Revier died recently at the age of 96. Revier owned and operated the Ben Franklin in Paynesville for 16 years - from 1955 to 1971.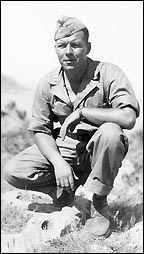 Revier also served on the Paynesville City Council from 1961 - 1966; was active in the Paynesville Civic and Commerce Association, serving on the board and as the coordinator of the Town and Country Days parade; and was active in the Paynesville American Legion, serving as commander in 1961.
Don Revier, pictured in 1943, served in Northern Ireland, North Africa, and Italy during World War II. After the war, he rose to the rank of major. He operated the Ben Frnklin store in Paynesville from 1955-1971.
Born in Dennison, Minn., Revier joined the Minnesota National Guards in 1929 at the age of 22. He started his military career as an enlisted man, but he moved up the ranks and was a second lieutenant by the time he married his wife, Marie, in 1936.
A member of the 34th Division Signal Corps during WWII, Revier served in Northern Ireland, North Africa, and Italy during the war. According to Revier's daughter, Jane Burr, who lives on Lake Koronis, her father never talked much about his military service. It wasn't until recently that Revier's daughters learned that his unit spent 500 continuous days in combat during World War II.
After the war, Revier worked as an instructor at a signal school in New Jersey, where he made the rank of major before leaving for civilian life. After leaving the military in 1946, Revier lived and worked in Northfield, Minn., until he moved with his wife and three daughters to Paynesville in 1955.
Revier bought the Paynesville Variety Store in 1955 and soon turned it into a Ben Franklin. The store was originally located on Washburne Avenue, but in 1970 Revier moved it to its present location on James Street. The building was previously the home of a Rexall drug store and a Fairway grocery store.
Revier and Marie owned and operated the Ben Franklin until retiring in 1971.
An avid woodworker, Revier remodeled the building and made all of the fixtures himself before opening for business, just as he had done in his original store. Eventually, he would go on to use his woodworking skills to build furniture for his daughters and to build canes and gadgets - such as a lift - that would make Marie's life easier. She died in 1995.
Revier also loved to fish, spending hours on the lake. Eventually, though, it became too difficult for him to get in and out of a boat, so he turned his focus on painting and golf, a sport he had abandoned when he left for war.
Even at 96, Revier remained independent, living in his lake home - where he worked on his paintings - until just a month before his death.
"He thought he could do anything, anywhere," laughed his daughter Donna Barthel, adding that he usually was right.
---
Contact the author at editor@paynesvillepress.com • Return to News Menu
Home | Marketplace | Community
---