Since February is I Love To Read Month, the Press decided to look this month at what sixth grade students, and what one of their parents, are reading.
Names: Doreen and Holli Kern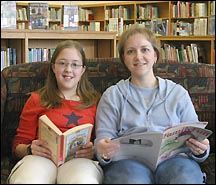 Why do you like to read?
Holli: I like to read because it takes my mind off of everyday life and brings me into a whole 'nother world.
Doreen: I like to read to gain knowledge and information about many different things.
What types of things do you like best to read best?
Holli: I like fantasy, mystery, and action books. They are fun and exciting.
Doreen: I like to read spiritual books, craft magazines, and informational books pertaining to family and also to nursing. And whenever I get a chance I enjoy reading a novel that just takes me away from "life" for a while.
What books do you remember someone reading aloud to you?
Holli: I remember my mom reading Little Bear and Curious George books.
Doreen: I don't really remember any specific book that my parents read to me, but I remember first learning to read simple lines like "See Spot run."
What is the first book you read completely on your own?
Holli: The first book I read completely on my own was calledBarney and the Farm Animals.
Doreen: Probably not the first book I read on my own, but one I remember is Amelia Bedelia. We had a bookshelf at home and that was one I remember reading.
What are your favorite books?
Holli: My favorite books are The Lord of the Rings series, Chasing Redbird, Winn Dixie, Dollhouse People, Ramona Quimby, and the Chronicles of Narnia series.
Who is your favorite author?
Holli: My favorite authors are J.R.R. Tolkien and Beverly Cleary.
Please give a summary of the last book you have read.
Holli: The last book I read was called The Eye, the Ear, and the Arm, and it is about three kids who get kidnapped and three detectives named Eye, Ear, and Arm. They have to go find the kids.
What book would you really like to read?
Holli: I would like to read The Diary of Anne Frank.
Doreen: A Walk to Remember
Where do you find books?
Holli: I find things to read in the school library.
Doreen: In the bookstore or in the magazines I get.
Where is your favorite place to read? Why?
Holli: I like to read in the school library and in my room because it is quiet there.
Doreen: My favorite place to read is either in bed or in my recliner curled up with a blanket.
What is your favorite snack while reading?
Holli: I like to eat popcorn while reading.
Doreen: I like to have something to sip on, either hot chocolate or pop, while I read.
Why is reading important?
Holli: Reading is important because you use it throughout your life.
Doreen: Reading is important because it is a part of our everyday life. We use reading in everything we do from reading signs to reading labels to books and to computers. Most of us read something each and every day.
What are your other hobbies?
Holli: My interests and hobbies are drawing, crafts, loving nature, and birds.
Doreen: I like to do cross-stitch and crafts and like to go snowmobiling when I get a chance. I also like to just sit back and relax when I have nothing better to do.
---
Contact the author at editor@paynesvillepress.com • Return to News Menu
Home | Marketplace | Community
---