Mother and son duo wins talent contest
This article submitted by Michael Jacobson on 2/23/99.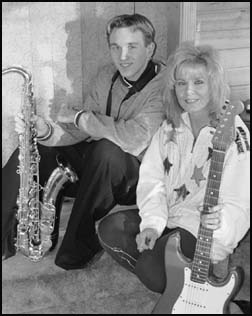 A night intended for experience and fun will be a lasting memory for Pat and Casey Kavanagh.

The mother and son duo competed in a talent contest at Jackpot Junction in Morton on Tuesday, Feb. 16. "What was interesting about it was Casey and I had absolutely no idea that we had any chance to win until they announced our names," said Pat.

Their idea was to have some fun and allow Casey to gain some experience playing before a large crowd. He has played piano for nine years and saxophone for seven. He has sung in the high school choir and plays in the jazz, concert, marching, and pep bands. He has written several of his own songs on the piano and intends to get a college degree in music and direct a high school band someday.

Pat has played publicly for years in a country duo, but they hadn't played publicly together except for church once. She described themselves as pretty green heading into the contest, and she had warned Casey that they probably wouldn't win.

"When I was little, I always wanted to be a rock star, to be onstage," said Casey, a 17-year-old junior in high school. He fulfilled that fantasy before an audience that Pat estimated at 500 people, including a small group from Paynesville that had come to watch the Kavanaghs perform.

"I'm really proud of the fact that Casey would even want to be seen on stage with his mother," said Pat.

Even performing in a duo, Casey said he was scared onstage, and now they'll be moving to a bigger stage. The winners of the weekly Tuesday night contests will compete on Friday, April 16, at 7 p.m. in a grand finale competition. Pat said the room is big enough to hold either six night clubs or some airplanes. She said it seats over 2,000 people.

When she first saw the next stage, before they had won the first contest, she said, "Thank God I'm not going to have to worry about playing in here."

Pat and Casey performed two songs to win Tuesday, and they plan to perform the same two songs in April. The first song was "Summertime." Pat said the lively, jazzy blues number showcased their musical talent very well. Pat played electric guitar and sang, and Casey sang as well and played tenor saxophone improvisationally. "No plans," he explained. "I just played off the top of my head, whatever I felt at the time."

Their second number was a reworking of the Judds song, "Guardian Angel." Pat, who has been writing songs since she was a teenager, rewrote the words of the song to fit their lives. The song talks about the death of Casey's father, Bob, when Casey was two.

Response from the audience was a criteria in the judging, and the Kavanaghs got one. "We definitely pulled the audience into it," said Pat.

Behind the scenes, though, the performance wasn't so easy. Due to the lighting, Casey couldn't see his music and had to play the song from memory. "He pulled it off," said Pat. "No one knew but me." Since then, he tried to play the song by memory again, and couldn't do it.

Maybe there was a real guardian angel that night.

The Kavanaghs competed against five other acts: an Elvis impersonator, a comedian, a country yodeler, a singing trio, and a young female singer. Both thought the girl would win and that they might have a chance for third. So they were disappointed when their names weren't called for third and confused when the girl was given second place.

"What the heck is going on," Casey recalled saying. "I asked mom, 'What if it's us?'"

They were surprised to win, and completely unprepared to perform the encore required of the winning act. They performed "Summertime" again. "We didn't think we'd win, so my reed was completely dry," said Casey.

Pat said she had a lump in her throat and was ready to cry, not to play guitar. Her strap got unhooked somehow, and Casey said she made a Kirby-Puckett-type catch when her guitar started to fall, and didn't miss a strum.

The only disharmony between them will come when it's time to get ready for that April competition. Pat wants to practice and practice until it's perfect.

Casey doesn't. "If I play a song too much, I lose all the feeling to it," he said.

"He likes to wing it," added Pat. "I like to be prepared."

Either way, their next performance figures to be just as memorable.
---