Names:
Jessica and Julie Jimenez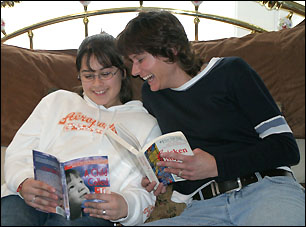 Why do you like to read?
Jessica:: It takes me different places.
Julie: It relaxes me.
What type of books do you choose most often?
Jessica: I like to read mystery books because they keep me wanting to read more.
Julie: I like to read short, uplifting spiritual books because they give me a positive outlook and inspire me.
What books do you remember someone reading aloud to you?
Jessica: Dr. Seuss. Julie: I remember my mom reading me stories from the Bible.
What is the first book you read completely on your own?
Jessica: Word Bird from the Paynesville Public Library.
Julie: A Duck Is a Duck is the first book I think I read on my own.
What are your favorite books?

Jessica: A Child Called It and the Sammy Keys series.
Julie: One favorite is A Return to Love by Marianne Williamson.
Who are your favorite authors?
Jessica: Dave Pelzer and Wendelin Van Draanen.
Please give a summary of the last book you have read.
Jessica: A Child Called It by Dave Pelzer. It is a true story about a severe case of child abuse and how the author overcame the odds and held on to his dreams of someone taking care of him and loving him for a person and not an it.
Julie: Chicken Soup for the Christian Soul by Jack Canfield. There is a story on faith about a small town which needed rain badly, and for weeks they searched the sky for rain. They gathered together to pray for rain, and the minister was touched to see a variety of objects held high in prayer. When the hour of prayer ended, a soft rain began to fall. In the middle of the crowd, one of the objects held high overshadowed the rest. A small, nine-year-old child brought an umbrella.
Where do you find books?
Jessica: Middle school library. Julie: At the Paynesville Public Library and from friends.
Where is your favorite place to read?
Jessica: My mom and dad's bedroom because it is quiet, and I can turn on the electric blanket while reading and fall asleep. Julie: My favorite place to read would probably be in our living room because it is warm and cozy.
Why is reading important?
Jessica: To learn new things. Julie: I think reading is important for understanding, comprehension, and also expanding our minds.
What are your other interests?
Jessica: Volleyball, basketball, softball, swimming, and hanging out with my friends.
Julie: I enjoy golfing, horseback riding, coaching volleyball, and spending time with my family.
---
Contact the author at editor@paynesvillepress.com • Return to News Menu
Home | Marketplace | Community
---