Bands present "Trip Around the World"
This article submitted by Erin Aagesen on 2/23/00.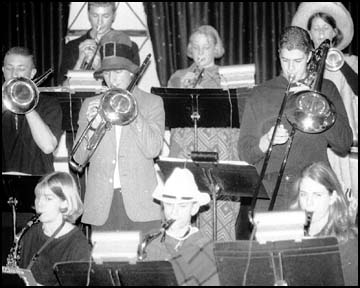 The high school junior, senior, and jazz bands (pictured at right) took their audience on 'A Musical Trip Around the World' at last Monday's theme concert. It was the final band concert of the year. The bands performed pieces that incorporated the world theme.

The concert began with the junior and senior bands coming together for "Symphony Number 9: From the New World," and ended with the entire group performing "Stars and Stripes Forever." In between, the groups performed individually on such tunes as the junior band's "Festa Espag–ol," and the senior band's "Ireland: of Legend and Lore." During this piece, seniors Bridget Mueller, Joe Halvorson, Tricia Hemmesch, and Anne Janotta performed their own interpretation of an Irish jig.

The night's soloists included: Krysta Larson and Kelly Loesch, alto saxophone; Ryan Whitcomb, tenor saxophone; Tricia Hemmesch, Corey Schmitt, Joe Halvorson, Anne Janotta, and Kelly Heinen, trumpet; Rachel Koehn and Carrie Hemmesch, drums; Eric Korman, trombone; Heidi Burg, flute; Tiffany Haag, Jen Mayer, Sara Ringstad, Kelly Fenske, and Heidi Burg, piccolo; and the junior band tuba section.

Most band members came dressed in ethnic clothing for the evening. Costumes included German lederhosen and an Indian sari. Also worn were sombreros, kimonos, and traditional Norwegian and Middle Eastern clothing.

The gymnasium was decorated with props the band put together. An Egyptian pyramid, the leaning tower of Pisa, the Great Wall of China, Big Ben, and the Eiffel Tower were all displayed. Director Bryan Mara came up with this year's theme with help from his students. Suggestions were given, and he tried to choose a theme that would incorporate good music.

"The point of a theme concert is to make the concert a little more entertaining and a little more fun by having a common thread between all the music," explained Mara. "The biggest compliments I received after the concert came from people that come to all of the concerts. They said that every concert gets a little better, and that makes me feel good."

Band members are currently working on music for an area solo and ensemble contest in March. Following this will be a large group contest. After these contests, the band will begin working on their program for the summer marching band season.
---