Orbeck starts Granite Creations
This article submitted by Linda Stelling on 2/22/00.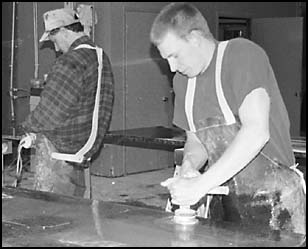 Shawn Orbeck (pictured at right working on a piece of granite), Roscoe, learned how to cut granite slabs while in high school. After graduation, he continued in the business deciding it was what he wanted to do as a career.

This summer, with five years of experience, Orbeck decided the time was right to branch out on his own. Last fall he opened Granite Creations along Highway 55 next to Koronis Tire. Working with him are J.R. Nordman, a stone fabricator with 20 years experience, and Joe Johannes, who has seven years experience working with granite.

Granite Creations makes specialty countertops, fireplaces, bathroom vanities, kitchen islands, and furniture. Orbeck also sells granite tile pieces for the do-it-yourselfer to install.

Nordman said customers have a large selection of colors to pick from. Laborador Green (dark green) is the most popular color at present. "We use it more than anything else right now," he added. Another popular color is St. Cecelia, a light brown granite.

Granite arrives in a 9 by 5-foot slab form, already polished from the quarry. "We'll then custom cut the slab to the exact measurement required for a counter top or fireplace mantle," Orbeck said. The men use a diamond edge blade on a special saw. A lazer light helps them line up the slab so they start with straight edges. The light also helps them line up an edge to avoid bad scratches in the granite. "There is an automatic stop on the saw so it can't cut too deep into the cutting table," Nordman said.

Once cut, they start sanding and polishing the rough cut edge. Each job usually requires the use of six different sanding pads to reach the desired effect. While the men are sanding, the pads are cooled and cleaned with water. A small water hose is attached to the sanders. The water helps prevent the sanding pads from overheating.

"We can usually have an order ready in seven to 10 working days, from field measurement to installation. We can finish installing a full kitchen in a day, depending on what is involved. An undermount sink and cooktop usually takes a little longer," Orbeck said

Customers have 12 different edge styles to select from. Orbeck said some details take longer than others.

"Ninety percent of the work we do goes to the Twin Cities area," Orbeck added. "We also have jobs in Virginia, Minn., and Grand Forks, N.D."

In the last few years, Orbeck added, granite tops have become more and more popular for home use.

Orbeck often has his customers select their color choice from a granite quarry near the Twin Cities. He then has the slab shipped to Paynesville. Twenty-five to 50 percent of the colors can be obtained from Cold Spring Granite. "Sometimes it is easier to have them select the color at the Twin Cities quarry and order the color from Cold Spring," Orbeck said. Slabs range anywhere from $55 and higher depending on the color.

Orbeck added, "It takes time to get to know everything needed to work with granite. It isn't an easy job, and, depending on the job, requires long hours."
---