Veronica Kost - who owned and operated businesses in Paynesville for 40 years with her husband - died this month at age 102.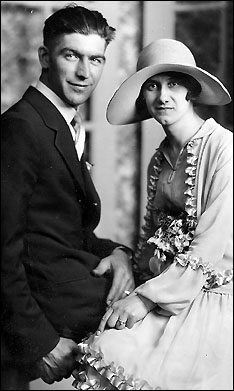 She would have been 103 in April.
Arnold and Veronica Kost in their wedding photograph taken in 1926.
Born in April 1903 in Richmond, Kost was raised in Richmond and Avon before there was electricity in rural Minnesota. She attended high school in Richmond and then graduated from St. Cloud Teacher's College (now St. Cloud State University).
She taught country school for four years before marrying Arnold Kost of Roscoe in June 1926. Arnold, who had impressed Veronica while dating with a radio he had built, opened a business selling homemade batteries on Washburne Avenue, then extending his business to radios.
Then Arnold and Veronica had a service station on James Street for a couple years. Arnold's father moved his Maxwell dealership to Paynes-ville in 1934.
The Kosts owned the Kost Motor Company, selling Chryslers and Plymouths, until 1966.
Arnold died in December 1976.
Veronica was a member of St. Louis Catholic Church in Paynesville for over 75 years. She continued to play cards and games past the age of 100.
She died on Wednesday, Feb. 8, at the Koronis Manor in Paynesville at the age of 102.
She is survived by four daughters, including Joan Kost and Katy Lindquist of Paynesville; 12 grandchildren; and 10 great-grandchildren.
Full Obituary - February 2006.
---
Contact the author at editor@paynesvillepress.com • Return to News Menu
Home | Marketplace | Community
---