For February - I Love To Read Month - the Press asked sixth grade students - and their mother or father - to share what they like to read and their reading habits.

Names:
Jackie and Karen Wisted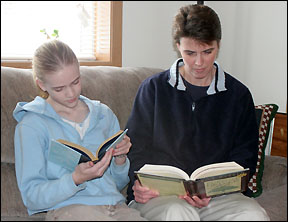 Why do you like to read?
Jackie: I like to read because it opens my mind to a whole other world. It's great!
Karen: It's relaxing, and reading is how you learn and grow.
What type of books are best?
Jackie: like horror, action-packed, mysterious, and teen books.
Karen: Books that enrich and encourage me spiritually.
What books do you remember someone reading aloud to you?
Jackie: I remember I had a big book of Disney stories. They read that to me.
Karen: OMy mom read me The World's Best Fairy Tales, and a favorite was "Rikki Tikki Tembo."
What is the first book you read completely on your own?
Jackie: I read Ira Sleeps Over by myself when I was two years old.
Karen: Not sure, but one that sticks in my mind is How to Eat Fried Worms.
What is your favorite book?
Jackie: Harry Potter, Series of Unfortunate Events, and Princess Diaries.
Karen: The Bible. (I look forward to my daily quiet time in God's word.)
Who are your favorite authors?
Jackie: J.K. Rowling, Meg Cabot, Louis Sachar, Lemony Snicket, and Phyllis Reynolds Naylor.
Karen: I don't really have a favorite. I tend to read books recommended to me by others.
Please give a summary of the last book you have read.
Jackie: Boys and girls play tricks on each other in Boys in Control.
Karen: Having a Mary Heart in a Martha World. It compares the different personalities of two sisters in the Bible, Mary and Martha, and it shows how in this busy world what Jesus desires and what we can achieve is a deeper relationship with Jesus by spending more time in God's word and prayer.
Besides books, what else do yuou like to read?
Jackie: Magazines and newspapers.
Karen: The Paynesville Press, devotionals, and my kids' school papers.
Where is your favorite place to read?
Jackie: In my bedroom in my butterfly chair, in my beanbag chair, or on my bed.
Karen: By the kitchen table.
What is your favorite snack while reading?
Jackie: I like ice cream or popcorn.
Karen: Popcorn or candy.
Why is reading important?
Jackie: It's educational, and I learn new words.
Karen: You learn so much, you use your imagination, and it increases your vocabulary.
What are your other interests and hobbies?
Jackie: Riding bike, playing Playstation 64 or Gameboy, hanging out with friends, shopping, skateboarding, gymnastics, speech, cheerleading, and swimming.
Karen: Volleyball, bowling, softball, Bible studies, and spending time with my kids and friends.
---
Contact the author at editor@paynesvillepress.com • Return to News Menu
Home | Marketplace | Community
---