Father Francis Garvey will receive the title of monsignor in the Roman Catholic Church on Sunday afternoon in New Ulm. His parish, The Church of Our Lady in Mannanah, will host an open house for him on Sunday night in the parish center from 6 to 8 p.m.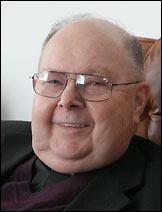 Garvey, who grew up on a farm about three miles from Mannanah and was raised at The Church of Our Lady, is one of five priests in the New Ulm Diocese who will be given the title of monsignor during the Conferral of Ecclesiastical Honors on Sunday.
Monsignor is a title of honor in the Roman Catholic Church that must be approved by the pope and can be given to priests to recognize their service to the church.
"It's simply a title of honor," said Father Garvey. "It could be given to any priest."
While Father Garvey is grateful for the New Ulm bishop to recognize his work, he is quick to note that other priests, such as Fathers Leo and Richard Leisen, serving Roscoe, Lake Henry, and Spring Hill (Leo) and Paynesville (Richard), as just as deserving. "Maybe Bishop Kinney (in the St. Cloud Diocese) will get the bug, too," said Father Garvey.
Father Garvey learned about the award in early December, when he and the other four recipients were called to a lunch meeting with the bishop in New Ulm. "We didn't know why we were invited," he said. "I didn't know what in the world I was driving down to New Ulm for that day."
Father Garvey can trace his family in Mannanah back to 1876. He was baptized and received his first communion at The Church of Our Lady in Mannanah.
After graduating from Eden Valley High School in 1950, he attended seminary in St. Paul. He took his vows as priest on Feb. 22, 1959, and now has served 47 years in the church.
His longest stint was 39 years as the chaplain at the Willmar Regional Treatment Center. He also served 34 years at St. Patrick's Catholic Church in Kandiyohi. (He also taught at New Ulm Cathedral and has served St. Anthony's Catholic Church in Watkins and St. Phillip's Catholic Church in Litchfield.)
In August, he will have served ten years at The Church of Our Lady.
"It's unusual to be back here in the home church," he admitted, "but it worked out."
The Church of Our Lady, according to a recent census, has 246 households and 623 parishioners. Father Garvey calls the congregation "tremendously dedicated."
Serving his home parish is a joy, said Father Garvey, who likes being back home and being with relatives and people he has known his entire life. The title of monsignor, he added, is a celebration of the parish, as well as his ministry. "I think it's an honor for them as well as for myself," he explained.
---
Contact the author at editor@paynesvillepress.com • Return to News Menu
Home | Marketplace | Community
---