Group of five medical students starts school sessions at PAHCS
This article submitted by Michael Jacobson on 2/21/01.
Another 12-week session of the Rural Health School (RHS) started last week at the Paynesville Area Health Care System (PAHCS).

The program - run through the University of Minnesota - brings medical students of various disciplines together on Tuesdays for three months to tour rural health care facilities, to learn about rural medicine, and to learn from each other.

The purpose of attending RHS is "to be aware of what's available in rural Minnesota and hopefully to interest (the students) in practicing in rural Minnesota," explained Laura Odell, Pharm.D., the local site coordinator. She noted that PAHCS has recruited two physician assistants and a Pharm.D. to practice here after their involvement in RHS.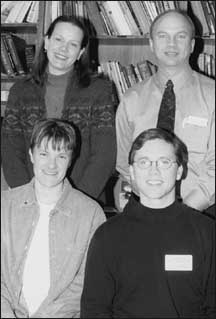 This year's group of five at PAHCS includes a future doctor, nurse practitioner, physician's assistant, speech therapist, and doctor of pharmacy (Pharm.D.).
Their first session at PAHCS was on Tuesday, Feb. 13. Through the next 12 weeks, they will tour the local medical facilities, see public health and home health services offered rurally, tour Don Thomes' dairy farm, visit the Gold'n Plump factory in Cold Spring to learn about occupational health, and participate in case discussions with the five other RHS sites.
One session will be a holistic health panel, and will include local speakers: Dr. Liz Greguson on chiropractic medicine; Pastor Keith Ainsley on spiritual health; Dr. Tom Sult on complementary medicine; and Laura Erickson on midwifery.
Most of the students will also be getting hands-on experience in Paynesville by working in their respective discipline for the rest of the week.
The five members of the local RHS session are: (front) Kay Ivers and Troy Decker; (back) Gail Musolf and Jonathan Strohschein; not pictured is Pepper Meyer.
Decker is a physician's assistant student at Augsburg College in Minneapolis. He arrived at PAHCS in November and will stay until the first week of May. He is scheduled to graduate in August. He already has completed six-week rotations in pediatrics with Dr. Randy Zimmerman and in internal medicine with Dr. Randy Nelson. He currently is working in family practice with Dr. Larry Strate in the satellite clinic in Watkins. His last rotation will be obstetrics and gynecology with Dr. Tim Malling.
Ivers is a speech therapy student at St. Cloud State University who will be working in PAHCS's rehabilitation department with Karla Fleming until May, when Ivers will graduate. Ivers will split her time between her work at PAHCS and at a school in St. Cloud.
"It's great to have Kay here," said Odell, "because she's going to have a perspective we've never had before." Meyer, who is arriving late due to her class schedule, is a Pharm.D. student at the U of M, who will be working with Odell and Todd Lemke in the pharmacy department. She should graduate in June.
Musolf is studying to be a nurse practitioner in family practice at the U of M. She will only be in Paynes-ville on Tuesdays for RHS. She is scheduled to graduate in May 2003.
Strohschein is spending nine months at PAHCS through the Rural Physician Associate Program. He has been working with Dr. Allan Solum since October and will be here until June.
The current group includes city natives wanting to explore rural care and small-town natives who intend to return. "I grew up in a metropolitan area," said Musolf, "so it's a chance to see a rural area and rural medicine."
Ivers grew up in a rural area and wants to return to one to practice medicine, she said.
Decker, who grew up in Plymouth when it still had dairy farms, considers himself small-town at heart. He noted that the physicians here were really willing to teach and offered great hands-on experience.
The Rural Health School has always contained a technological component, with students conducting joint sessions and combined case discussions with other sites through the use of interactive TV.
This session the focus on technology will be enhanced with the use of telemedicine. Using a laptop computer and a high-resolution camera, students will practice making consultations via a phone line. "They basically can do a consult without making the patient drive," explained Odell. The group will also see a demonstration of a video telephone at Willmar.
---