More drivers needed to deliver meals to homes
This article submitted by Michael Jacobson on 2/21/01.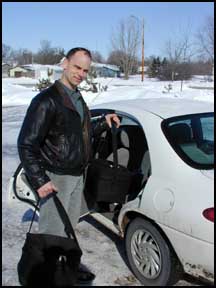 Drivers are still wanted to deliver meals for the local home-delivered meals program, and the staff hopes the public will celebrate National Meals on Wheels Week by volunteering to be a local driver.

At the first of the year, Catholic Charities took over the delivery service from the local group, started by Gladys Deadrick, that had run it for 30 years. The program is now run through the Senior Dining service at the Paynesville Area Center.

Ron Stransky, one of the volunteer drivers, prepares to deliver meals.

The Senior Dining staff has since made some changes to make it easier on the drivers. They have broken the local deliveries into two routes, one on Highway 23 toward Roscoe and the other on Highway 55 and around Lake Koronis.

Currently, the program has 11 driving teams to deliver meals, but more are needed. Coordinator Linda Manz hopes to establish a monthly schedule, but so far much of the scheduling is being done at the last minute.

As of last Friday, drivers were scheduled through Monday, but needed to be found for the rest of the month.

"The program really can't run without drivers," said Michelle Gralish, food manager. "We can't get the meals to them without drivers."

Getting drivers will be an ongoing need for the program, but if more could be signed up, it will ease the daily organizational duties. "It's easier to call people and switch times than to be constantly calling at the last minute," said Gralish.

She stressed that drivers do not have to be senior citizens. They currently have young volunteers who either work nights or deliver meals on their lunch break. The meals are ready for delivery at 11 a.m. on weekdays.

Current drivers are Junior Dilley, Ron and Karla Stransky, John and Bev Swanson, Karen and Lee Wendroth, Sherrie Law, Larry Thielen, Dwight Peteler, Don Torbenson, Ray Jones, Lindsay Hull, and Bob Marciniak.

The staff also has a volunteer who is willing to drive, but needs someone who would be willing to take the meals to the respective houses.

Each route takes about an hour to drive, but can take longer depending on how much socializing the driver does enroute. "I did it one day," said Janell Hoffman, Paynesville Area Center manager, "and they just wanted to visit."

The program delivers around 20 meals per day. Recipients need to sign up a day in advance so Senior Dining knows how many meals to make.

Senior Dining's phone number is 320-243-4575.

The program is subsidized for seniors by the government. Seniors (60 years or older) and their spouses are asked to donate $2.50 per meal. They are billed monthly.

Nonseniors can get meals, but are charged $4.95 for each one.

Frozen meals are also available from the program, but at least a week's notice is needed to freeze a variety of lunches.
---