Manor cat gets birthday party
This article submitted by Michael Jacobson on 2/21/01.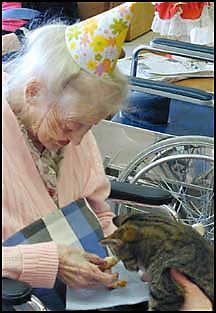 Birthdays frequently merit celebrations for residents of the Koronis Manor, but the attention on Valentine's Day was for one of the youngest residents at the facility.

Left: Astrid Christensen, 106, feeds a piece of birthday cake to Squirt, the sister of the Manor's cat, during the birthday party last week.

Staff and residents celebrated the first birthday of the pet cat, Dusty, on Wednesday, Feb. 14, with balloons, party hats, and birthday cake.

Dusty was born a year ago, behind the couch at nurse's aide Nancy Young's house. Young donated the cat to the Manor last summer.

On Wednesday, Dusty was reunited with two of her siblings, Squirt, who lives by Lake Koronis, and Tweeters, who lives in Hawick. Young gave those to co-workers, including Kathy Gerding, who brought Tweeters to the party.

The staff of the nursing home credit Dusty (along with a pet cockatiel, Chuckles) for providing entertainment and companionship to the residents of the facility.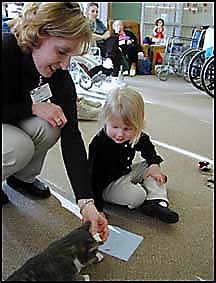 Dusty arrived at the Manor last July and has quickly made it her home and an improved home for the residents. "They just love her here," said Young.
The 90-minute party took a lot out of Dusty, who spent the afternoon sleeping on the bed of the Manor's oldest resident, Astrid Christensen, 106.
Right: Lynn Lange fed Dusty some birthday cake while a young friend watches.
---