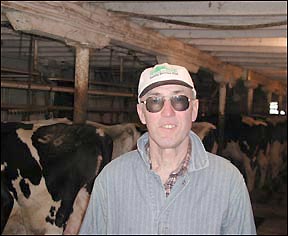 LeRoy Schlangen has unusual plans for his retirement from dairy farming. The Roscoe native plans to sell his dairy cows this spring, which will enable him to seek the endorsement as the Republican candidate for the Minnesota's Seventh Congressional District.

Schlangen, who grew up only a mile and a half south of the 240-acre farm on the east side of Roscoe where he has milked 40-45 dairy cows for the past 32 years, intends to seek the Republican endorsement to run against incumbent Democrat Collin Petersen (Detroit Lakes) next fall in the general election.

"I have issues that need to be discussed on what has to be done so to achieve and maintain an economic system that is viable and just," he said in a letter announcing his candidacy.

Schlangen has attended the Republican caucuses since 1974 and has served as both a county and state delegate. He intends to use networking, personal contacts, and low-budget techniques while seeking the endorsement.

"I think two or three thousand dollars can get a lot of ideas expressed," he said last week. In addition to letters to delegates and personal appearances at county and district conventions, he hopes newspaper stories and radio shows will help him get his messages across to the public.

Issues that Schlangen wants to address in the campaign include: taxation based more on consumption and less on income, while still taxing according to the ability to pay; providing more needed assistance for insurance and health care; and providing education that includes encouragement to study a history of religion.

"We need taxes but that can be done with a simplified tax structure," he explained last week. "If the tax rates weren't so high, we wouldn't need all those loopholes," he added.

As for farming, he believes the Freedom to Farm Bill has been unfairly criticized because while it does guarantee profits, it does prevent the bottom falling out on farmers. "If we have good crop production, the government guarantees we break even," he said of the bill. "If we have crop failure, there's crop insurance, and the government makes sure that's provided, too."

Schlangen was born and raised on a farm near Roscoe and graduated from Paynesville High School in 1960. He attended college in Wisconsin and at St. John's University in Collegeville, where he earned an undergraduate degree in philosophy. He also studied for a year and a half in the seminary at St. John's before returning to the Paynesville area.

He bought the farm on the outskirts of Roscoe in 1969, and has milked 40-45 cows since then with the help of his wife, Peggy, and son, Jim.

For LeRoy, seeking the Republican endorsement can have a happy ending even if he doesn't end up heading to Washington, D.C., as a newly elected Congressman next winter. For starters, due to redistricting, Munson Township, where his farm is located, might not be in the Seventh Congressional District when the elections are held next fall. Schlangen does have the belief, though, that he has ideas that need to be raised and that his party and voters can benefit. "This way, we can make the endorsement process more into an exchange of ideas," he said last week.

"I don't really expect to make it," he added, but this is a decision he'll leave to the voters.
---
Contact the author at paypress@lkdllink.net • Return to News Menu
Home | Marketplace | Community
---