Zach Welle started working this month as a real estate agent for Cliff's Insurance and Realty.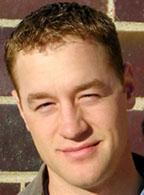 For the past several years, Welle has built houses. Working in construction taught him how homes are built, he said, and moving into the real estate market was a natural progression. Welle learned of the opening at Cliff's just as he was finishing classes for his realtor's license.
After graduating from PAHS in 1997, Welle earned a degree from Ridgewater College in Hutchinson in "non-destructive testing." He worked in the field for six months before deciding that he preferred life in a smaller community. Since returning to the area, Welle has been working for a construction company in St. Cloud.
Welle hopes his local connections will help him in his new field. "I know a lot of people around here" he said, "and I think I have a fairly good reputation."
He also hopes that working at Cliff's will shorten his commute, but until he's established as a realtor in Paynesville he plans to continue working in construction part-time.
After years of building homes for others, Welle finally built one for himself last year with the help of friends, family, and neighbors. His parents, Dale and Rose Welle, are his closest neighbors. Though much of his free time involves working on his house, Welle also enjoys hunting, fishing, and spending time with friends.
---
Contact the author at editor@paynesvillepress.com • Return to News Menu
Home | Marketplace | Community
---