Low milk prices might get worse.

Base milk prices have been low for the past 15 months. During that time, the average monthly price has not cracked $12. During the past year, the average monthly price has always been below $11. And during six of the past seven months, average milk prices have been under $10 per hundred weight.

Base milk prices were already looking bleak this month, at just over $9.70 for every hundred pounds of milk. But prices could soon be worse, according to Matt Quade, manager of the AMPI cheese plant in Paynesville.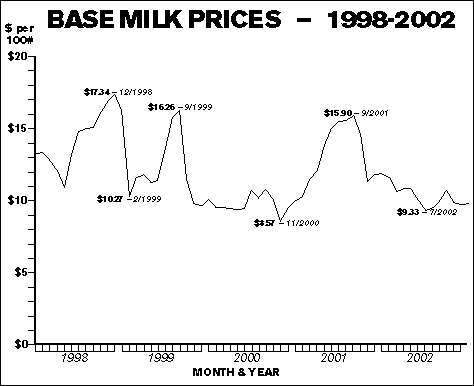 On Friday, he said, the cheese block market dropped nearly seven cents per pound, which means that producers will pay less for the milk used to make cheese. This could bring the base milk price down to nearly $9 per hundred weight, Quade predicted.
Milk prices hit a 25-year low in November 2000, when the average price for the month was only $8.57 per hundred weight. After that, prices recovered for most of 2001, with prices averaging over $15 per hundredweight throughout that summer. But milk prices dropped below $12 in November 2001 and have not gone north of $12 since them.
The reason for falling prices is simple supply and demand, said Jim Salfer of the Stearns County Extension Office. Milk supplies throughout the country are up, but due to the sagging economy, dairy consumption is down.
When the economy is bad, noted Quade, dining out is one of the first things to go, and the demand for cheese goes down significantly. "People just aren't going out for pizza like they used to," said Quade, who added that most cheese consumed in this country is sold in restaurants.
According to Salfer, dairy farms are getting bigger, and each dairy cow is producing more milk than ever. Minnesota is actually declining in dairy production, but huge dairy farms in other parts of the country have more than made up for any production losses elsewhere, he said.
If predictions are correct, milk prices may rise to $12 again later this year, but only for a few months before falling back again, said Salfer. Currently, the prospect of war with Iraq has consumers frightened, which is one of the reasons the outlook is uncertain, said Salfer. A long war could be harmful to the market, he said, while a short war could restore consumer confidence, which, in turn, could cause the market to rebound.
Dairy farmers do have a safety net, though. In 2002, congress passed a new farm bill that included a program for dairy producers. The Milk Income Loss Contract (MILC) reimburses eligible dairy farmers for a portion of their losses. The payments are made to farmers each month by the USDA when the base price falls below a set amount. The average payment so far has been less than $1.50 per hundredweight.
While the MILC program may offer a lifeline, some farmers are upset that they have been forced to take the payment, even likening it to "welfare."
Cyril Buermann, a dairy farmer from north of Paynesville, said he's doing all right for now. He is contracting his milk and doesn't carry a lot of debt on his farm. But, since debt is almost a way of life for farmers, he knows some farmers who could be in a lot of trouble if there isn't a turnaround in prices soon.
---
Contact the author at editor@paynesvillepress.com • Return to News Menu
Home | Marketplace | Community
---