Implementation of the 2002 Farm Bill was the major topic of conversation between an aide for Senator Mark Dayton (DFL-Minnesota) and a small group of farmers last week in Paynesville.

Gary Wertish, Dayton's director of agricultural outreach, held the meeting on Thursday to discuss the new federal farm bill and to hear farmer's concerns.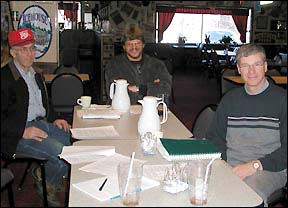 One of the four farmers present was currently signing up for the farm bill. (At least two others in attendance were retired.) Still, the farmers had a lot of questions for Wertish about the program.
The new farm bill allows farmers the option of updating their historical bases (crops grown) and yields, as a basis for subsidy payments. Local farmer Cyril Buermann said updating crop yields hasn't been as easy as he was led to believe.
LeRoy Schlangen (left) and Cyril Buermann (center) took part in a meeting held by Gary Wertish (right), a representative from Senator Mark Dayton's office, last week. The meeting gave farmers the opportunity to discuss the new farm bill as well as other issues of concern.
Wertish responded that Congress had a difficult time deciding how to determine historical yields, and the method chosen was a compromise between lawmakers from all over the country.
Wertish agreed that the program was difficult to understand and determining historical yields could have been done more fairly and efficiently.
Another matter questioned by the farmers was how base crops were determined. Corn is considered a base crop, but alfalfa isn't, so corn growers can receive higher subsidy rates for their corn, while alfalfa may be just as important to their cows.
Wertish agreed that the policy may not be fair to area farmers, but when the bill was made consideration had to be made for southern growers whose cash crops were likely to be cotton and rice. Base crops were determined as a compromise, he said.
The new bill also includes, for the first time, a livestock compensation program that should help farmers, who in the past have had few options of how to cover livestock losses due to weather, added Wertish.
Farm bill information can be obtained at any USDA Farm Service Office. Historical bases and yields for the program can be updated through April, and new applicants have until June to apply.
Farmers at the meeting were also introduced to Dayton's three-part farm package. The package includes a bill for $5.95 billion in agricultural disaster assistance; a bill for $2.5 billion for renewable fuels that would provide tax credits for soy-diesel production and ensure that federal vehicles will use ethanol and soy-diesel whenever possible; and a bill that would require importers to pay the same tariff as other dairy products.
---
Contact the author at editor@paynesvillepress.com • Return to News Menu
Home | Marketplace | Community
---