Paynesville Area High School seniors Mandy Mayer and Freddie Stock were selected as the local nominees for the Academics, Arts, and Athletics (Triple "A") Award this year.

Mandy is the daughter of Donnie and Linda Mayer, and Freddie is the son of Gerry and Mary Stock. Neither student knew of the award before receiving their nominations, but both agreed it was an honor to be recognized as leaders in their school.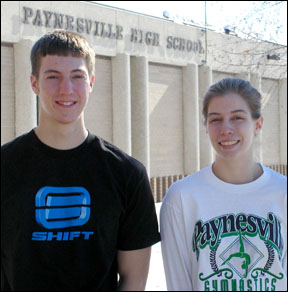 Sponsored by the Minnesota High School League, the award honors students who have excelled in academics, arts, and athletics. The local nominees, selected by teachers and staff, competed at districts in January.
For the district competition, both students had to submit an application listing their activities, had to write an essay, and get a letter of recommendation from one of their teachers. Participants then read their essays at the district banquet held in January at the American Legion in Paynesville.
Seniors Freddie Stock and Mandy Mayer were the PAHS nominees for the Triple "A' Award - Academics, Arts, and Athletics - which recognizes well-rounded students. Both Stock and Mayer belong to the National Honor Society; volunteer as peer helpers; have played in concert, pep, marching, and jazz bands; and have served as athletic team captains.
Athletics Coordinator Kyle Nehowig said that being team captains in sports played an important role in nominating Mayer and Stock. "They're both the quiet-type," he observed, "but they're good leaders for our school."
Mayer is a member of the National Honor Society, earns college credit in an Honors English course, and also works as a peer helper in a special education classroom at the elementary school. "I'm proud of helping people," said Mayer.
Business teacher Rebecca Hoey, who wrote her recommendation, said that Mayer is both book smart and has common sense. "She is a perfectionist and strives for top quality in every assignment," wrote Hoey in her letter. "She is extremely conscientious and self-motivated," continued Hoey. "Mandy is a quiet leader. She doesn't draw attention to herself, but leads by example."
Playing the saxophone, Mayer has participated in band all four years, taking part in concert, pep, marching, and jazz bands. "Band has helped me learn time management," wrote Mayer in her essay. "I learned how to do my homework, get my chores done, and still have time to practice my saxophone," she concluded.
In sports, she has been active in gymnastics, volleyball, cross country, and track. Involved in gymnastics since eighth grade, Mayer is captain of the team this year. She will also be team captain for the upcoming track season.
"Being a captain has taught me how to be a leader," she wrote. "By being in these sports I am learning how to gain respect and appreciation from kids," she continued. "I hope to accomplish this in my classroom some day."
Mayer will be attending St. Cloud State University next fall. She plans to major in elementary education. Stock is also a member of the National Honor Society, studies in the Honors English program, and tutors math as a peer helper.
Math teacher Bill Brinkman, who recommended Freddie, said he is a hard worker. "He has a great attitude and is always ready for something new," said Brinkman. "He never complains if it gets difficult, he just works harder," Brinkman added.
Stock has played the trombone in band all four years playing in the concert, pep, marching, and jazz bands. "Band has also helped me to learn to set goals for myself," he wrote in his essay. "I have also learned leadership skills as a first chair in concert and jazz band," he continued.
In sports, he has been active in both track and cross country. Stock, a runner since seventh grade, was also a captain in cross country this year. His role as a cross country captain, he wrote, was to provide help and encouragement for younger or less experienced members of the team and to act as a role model.
To be a well-rounded student takes commitment, according to Stock. "I believe dedication is the key to success whether it is in academics, arts, or athletics," he said.
Next fall Stock will be attending North Dakota State University. He plans to study mechanical engineering and wants to design cars in the auto industry.
---
Contact the author at editor@paynesvillepress.com • Return to News Menu
Home | Marketplace | Community
---