Since February is I Love To Read Month, the Press decided to look this month at what sixth grade students, and what one of their parents, are reading.
Names: Becki and McKenzie Quade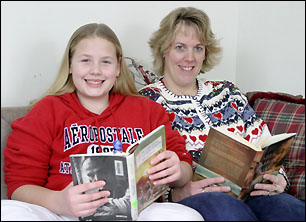 Why do you like to read?
McKenzie likes to read because it is so much fun to sit down and relax and get lost in a book. Becki likes to read because she enjoys the relaxation she gets from it.
What type of books do you choose most often?
McKenzie likes to read fiction books so she can use her imagination to create worlds that are not real. Becki likes to read mostly fiction books but also reads a fair amount of family and parent-based books that she can use in her profession and with her family.
What books do you remember someone reading aloud to you?
McKenzie remembers reading the Franklin books, Dr. Suess, Clifford, Spot, and Disney books and Cinderella and Snow White stories. Becki remembers reading nursery rhymes such as Mother Goose.
What is the first book you read completely on your own?
McKenzie read the Dr. Suess books, and Becki read the Little Golden books.
What is your favorite book?
McKenzie's favorite books are the series of Unfortunate Events, and both Becki and McKenzie really enjoy the Ramona books and the Laura Ingalls Wilder series.
Who are your favorite authors?
McKenzie's are Lemony Snicket, Beverly Cleary, and Laura Ingalls Wilder. Becki likes Cleary and Ingalls Wilder, too. Becki also likes Laveryl Spencer and Danielle Steele.
Please give a summary of the last book you have read.
McKenzie is reading Anne Frank's diary now. So far, World War II has just started, and the Nazis are taking the Jews to concentration camps. Anne and her family just went into hiding with another family and a dentist. McKenzie is enjoying this book.
What book would you really like to read?
Both McKenzie and Becki would like to read the Harry Potter books.
Where do you find books?
McKenzie finds her books in the middle school library mostly, and Becki finds hers in the public library or at bookstores.
Where is your favorite place to read? Why?
McKenzie's favorite place to read is in her bed so she can snuggle and relax. Becki's is in the rocking chair in the living room where it is quiet.
What is your favorite snack while reading?
McKenzie's favorite snack is Skittles, and Becki's is Diet Pepsi.
Why is reading important?
McKenzie says reading is important because it builds your vocabulary and your learning, but most important you have fun reading it. Becki says reading is important so you can learn about people and places and it is a lifelong hobby.
What are your other interests and hobbies?
McKenzie's hobbies include tap dancing, softball, volleyball, basketball, reading, hanging with friends, talking on the phone, school, watching monster truck rallies, and snowmobiling. Becki enjoys walking, shopping, camping, and spending time with the family.
---
Contact the author at editor@paynesvillepress.com • Return to News Menu
Home | Marketplace | Community
---