Spelling Bee champion crowned
This article submitted by Michael Jacobson on 2/16/99.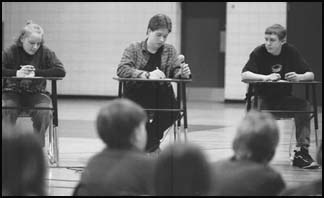 Melissa Andrie left out an h in beachhead, and sixth grader Roberta Anderson used that chance to win the middle school spelling bee.

Both Anderson and Andrie had been perfect as the ten other contestants were eliminated Wednesday afternoon. The students listened to the spoken word, heard it used in a sentence, and then had to spell it correctly. An incorrect spelling meant elimination.

Each grade in the middle school was represented by four contestants. These top spellers had been identified by a written spelling test using a word list chosen by each gradeís English teacher.

Eighth grade contestants were: Jessica Andrie, Chris Kern, Sam Thompson, and Scott Wendroth. Seventh graders were: Melissa Andrie, Rachel Hanson, Adam Ingalsbe, and Tim Schrupp. Sixth graders were: Heather Albrecht, Roberta Anderson, Maggie McCarron, and Matt Mehr. Teacher Randy Ziemer, who organized the bee and announced the words, said he was proud of all 12 students and that they were all neat kids.

When only two contestants were left, the rules changed, and to win you needed to correct a misspelling by the other contestant and then spell another word correctly. Anderson missed beachhead, but so did Andrie, who then spelled biosensor correctly, which could have been her winning word.

Anderson knew flannel and also got panama after Andrie missed. The winning word for Anderson was ounce.

The spelling bee was organized by the Central Minnesota Service Cooperative in St. Cloud. The competition Wednesday lasted 40 minutes and required 94 words from a list provided by the cooperative. Someone spelled correctly insomnia, tutu, colic, swineherd, and warbonnet. They didnít get to more difficult words like verbatim, euphanism, and pasteurize.

As the middle school champion, Anderson advances to compete in the west regional at St. Johnís University on Saturday, March 6, at 10 a.m.

Andrie will be the first alternate, and Chris Kern, who finished third, will be the second alternate. The west region includes 23 schools located inside a rough circle formed by the school districts of Hutchinson, Delano, Monticello, Holdingford, Sauk Centre, and Belgrade-Brooten-Elrosa.

---