Rue's Restoration Shop now open in Paynesville
This article submitted by Linda Stelling on 2/16/99.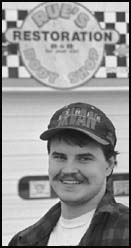 Kelly Rue, Avon, was looking for a site to open a body shop and found the perfect place in Paynesville on Highway 23 near Cenex, to open Rueís Restoration and Body Shop.

A native of Kerkhoven, Rue is a graduate of the Winona Vocational Technical College auto body program. He has worked five and one-half years at the Peters Body Shop in St. Cloud. When not working at Peters, Rue also worked out of his garage at home.

ìIíve been working with cars as long as I can remember. Dad always tinkered with cars in his spare time and I was there helping,î Rue said.

Rueís goal is to establish a good quality business. ìI want to keep people happy. I feel there is a big need for more car restoration businesses. There is a lack of body men in the industry. Total restoration involves a lot of work. The average time spent on a car, from start to finish, is about a month,î Rue said.

Rue does his restoration work in the front portion of the former Sentinel Printing building and has his paint booth in the back area.

ìI feel I learned a lot from the vo-tech program and from workng at Peters,î he added.

---