Fifteen PAHS physics students - divided into four teams - participated in a Rube Goldberg competition at Minnesota State University-Mankato on Friday, with one team taking first place and another finishing third.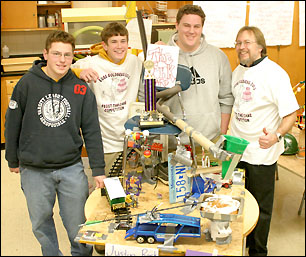 The team of junior Ross Barten, senior Josh Binsfeld, junior Justin Bork, and senior Jeremiah Gleitz captured the top prize in the competition with their contraption to frost a cake. Their Rube Goldberg machine was judged "the most entertaining, innovative, and complex" by the contest judges out of the 35 entries in the competition.
A team of physics students from PAHS won the 2005 Rube Goldberg "Frost the Cake" Competition at Minnesota State University-Mankato on Friday. Pictured with their teacher (Jay Thompson, right) are junior Ross Barten, junior Justin Bork and senior Josh Binsfeld. Not pictured is senior Jeremiah Gleitz.
Another team from PAHS - seniors Justin Butkofski, Casey Kussatz, Mike Mueller, and foreign exchange student Atanas Pastar-madzhiev - also made the finals and took third with their contraption. Rube Goldberg, according to the contest organizers, was "an engineer, sculptor, author, and Pulitzer-Prize-winning cartoonist who specialized in depicting overly complex machines designed to perform simple tasks."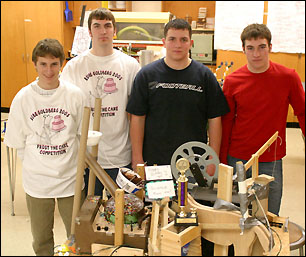 The 2005 Rube Goldberg competition at MSU-Mankato challenged students to build a contraption - or Rube Goldberg machine - to frost a cake. The four teams of PAHS students did that as well as had their machines play music.
Taking third place (out of 35 teams) at the Rube Goldberg competition on Friday with their cake-frosting machine were seniors Atanas Pastarmadzhiev, Casey Kussatz, Justin Butkofski, and Mike Mueller.
The PAHS students made their machines for Jay Thompson's physics class. Other teams from PAHS were: seniors Lacey Bengtson, Matt Fuchs, and Dustan Spanier; and junior Harrison Fangmeier and seniors Stacy Lahr, Stephanie Louis, and Matt Mehr.
Thompson - who took PAHS students from a Principals of Technology class to the Rube Goldberg competition in 1997, with one team placing third back then - urged students to work on their Rube Goldberg machines at home. The students spent a couple days of class last week finishing their machines for Friday's competition.
The winning machine, dubbed "The Junkyard" by its creators, involved a dozen steps within a three-foot by four-foot area.
It worked like this: a steel ball was dropped into tubing; it hit a mousetrap that pulled a string through a pulley and pulled the peg out of a small ball, which then rolled off a chair and landed on a lever. The lever started a train down its track, and the train hit a knife that cut another string and released a golf ball. The golf ball rolled through tubing and hit a switch on a power pad and then another mousetrap. The power pad started the music and a ice cream machine that rotated the cake.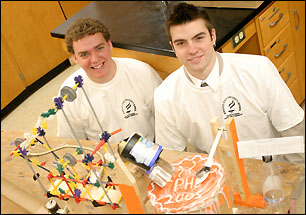 The mousetrap knocked over two pop cans, dumping a toy car, which was tied to a string. The weight of the car, pulling on the string, started a remote control car all the way across the machine, which pushed another golf ball into a third mousetrap that pushed an arrow into a balloon, which was blocking a funnel of frosting.
Seniors Matt Fuchs and Dustan Spanier made their Rube Goldberg machine with senior Lacey Bengtson (not pictured).
When the balloon popped and deflated, the frosting dumped onto the cake.
Why do it by hand, right?
While other Rube Goldberg machines at the competition might have looked more professional - with welding, etc. - their machine was more entertaining and looked more original, said Bork. They called it "The Junkyard" because they collected random things and old toys from his basement to make their contraption. Then they used two rolls of duct tape - which Rube Goldberg would probably have approved - to fasten it together.
"Ours were the most entertaining, and they looked like Rube Goldberg machines," explained Bork.
The winning contraption of Barten, Binsfeld, Bork, and Gleitz was probably the most complex of any of the entries, said Butkofski, and it was all done in a compact area. For the competition, the Rube Goldberg machines were limited to three feet by four feet by seven feet.
The coolest part of their machine was the remote control car, said Bork, which transported the motion of their machine across the contraption. Bork was not worried about the golf ball dropping and hitting both the powercord switch and the mousetrap, a dual step, because the ball did it "everytime," he said.
The 35 entries at the competition were divided into five rows of seven for the first round, with judges watching the machines perform the task of frosting the cake. One team from each row was selected for the finals of the competition.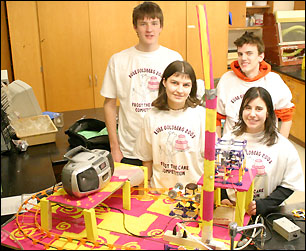 In addition to the winning team, the PAHS team of Butkofski, Kussatz, Mueller, and Pastarmadz-hiev reached the finals, too. Their machine used a balloon, a weight, two marbles, a mousetrap and clothespin, an old film projector, a train, and a tesla coil to cause an explosion of methanol in a plastic bottle to tip frosting and sprinkles onto the cake and spread the frosting with a spatula. Their Rube Goldberg contraption also featured music and strobe lights.
Junior Harrison Fangmeier and seniors Stephanie Louis, Matt Mehr, and Stacy Lahr pose by their pink-and-yellow Rube Goldberg machine.
The team of Fangmeier, Lahr, Louis, and Mehr used a golf ball to hit a switch to power the lighting and music of their machine and start a Knex car that had the cupcake on top. The car brushed against wax paper with the frosting. And the team of Bengtson, Fuchs, and Spanier used a robot arm and candle to pop a balloon that started a car down a track, hitting a peg that dropped a weight that both hit a switch to power the rotating cake stand and pulled a cord, dumping frosting onto the cake.
Both of the PAHS teams were surprised to place so well at the competition. When they made the finals, they thought they would place fourth and fifth, said Binsfeld. Then when fifth place was awarded, they thought they took third and fourth. Finally, one team got third, but then another team took second, and Barten, Binsfeld, Bork, and Gleitz realized that they had won.
After recovering from the shock, they did some cheering on stage.
"When we walked in, we didn't think we had a chance," said Bork. A team from Maple River had welded their contraption, and the PAHS students thought that machine - featured prominently in the Sunday Star Tribune, while the PAHS teams got a single sentence - would win. But it finished fourth.
Bork said their machine looked the most original, plus it worked without any help during both of the competition rounds. "Ours worked twice, and we used the most random stuff we could for it," he said.
The third-place team forgot to turn something on before starting their contraption in the final round or it might have been a PAHS sweep.
---
Contact the author at editor@paynesvillepress.com • Return to News Menu
Home | Marketplace | Community
---