For February - I Love To Read Month - the Press asked sixth grade students - and their mother or father - to share what they like to read and their reading habits.

Names:
Greg and Zach Friederichs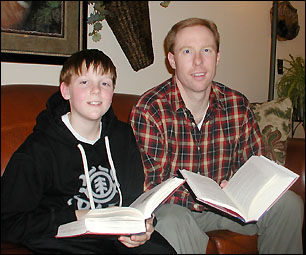 Why do you like to read?
Both: We enjoy the ability to entertain ourselves virtually anywhere with a book.
What type of books do you choose most often?
Zach: I like books that are action-packed, adventurous, and full of suspense.
Greg: All types of literature are interesting: fiction, nonfiction, biographies, autobiographies, and so forth.
What books do you remember someone reading aloud to you?
Zach: The Dr. Suess books and the Great Illustrated Classics.
What is the first book you read completely on your own?
Greg: I can't remember.
What is your favorite book?
Zach: The Harry Potter series and the Series of Unfortunate Events.
Greg: The Lord of the Rings by J.R.R. Tolkien and the corps novels by W.E.B. Griffin.
Who are your favorite authors?
Zach: Lemony Snicket, J.K. Rowling, and J.R.R. Tolkien.
Greg: Dan Brown, J.R.R. Tolkien, Tom Clancy, Jack London, John Steinbeck, W.E.B. Griffin, Patricia McKillip, and Alexandre Dumas.
Please give a summary of the last book you have read.
Zach: The last book I read was The Hostile Hospital by Lemony Snicket. It's about these three kids - Klaus, Violet, and Sunny - whose parents died, and there is an evil villain, Count Olaf, and his troops are trying to steal their fortune.
Greg: The last was Retreat Hell by W.E.B. Griffin, a fictionalized account of the first part of the Korean War from a Marine's perspective.
What book would you really like to read?
Zach: The sixth Harry Potter book.
Greg: The next corps novel by W.E.B. Griffin.
Where do you find books?
Zach: The public or school library, but I usually have the books I want to read at my house.
Greg: Internet, book stores, library.
Where is your favorite place to read? Why?
Zach: On my bed because it's nice and quiet there, and it's really comfortable.
Greg: Living room rocking chair or couch, because it's comfortable.
What is your favorite snack while reading?
Zach: All kinds of things, like chips and salsa.
Greg: I usually don't snack while I read.
Why is reading important?
Zach: Because it teaches me how to spell words that are more diffi-cult and that I've never seen before.
Greg: It gives me the opportunity to leave reality, like going to the movies.
What are your other interests and hobbies?
Zach: I like skateboarding, snowboarding, wakeboarding, rock climbing, swimming, running, and playing with my friends and family.
Greg: Cross country skiing, camping, fishing, walking, hunting, scuba diving, and sailing.
---

Contact the author at editor@paynesvillepress.com • Return to News Menu<

Home | Marketplace | Community<
---
<