High school principal John Janotta announced his pending retirement, sending his resignation letter to the school district. Janotta, who has served as the high school principal in Paynesville for 25 years, plans to retire at the end of the current school year.

Janotta's resignation letter was accepted by the school board last week at their regular meeting.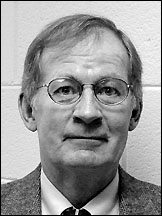 Janotta, (at left)a native of Morgan, Minn., came to PAHS in July 1980. He served as high school principal for two and a half decades.
Having a principal serve 25 years in the same school is not common, said superintendent Todd Burlingame. "You don't find that too often. That's pretty remarkable," said Burlingame. "We will miss him, and we wish him well."
Board member Lowell Haagenson added his thanks to Janotta, who considered retiring a year ago. The school system had to purchase a new administration software this year - for attendance, grading, and, hopefully, online access for parents and students (eventually) - and Haagenson was particularly thankful that Janotta had embraced this change in his final year.
Janotta's current duties involve grades 6-12 since the school district reduced to two principals this year. Other changes in the district this year are Burlingame being promoted to superintendent and principal Deb Gillman moving to the elementary school.
At its meeting last week, the school board discussed a procedure for hiring a new principal. The school district plans to follow a similar procedure to the one used six years ago to hire Burlingame as the elementary principal, the last time it hired a new administrator.
The district plans to advertise the opening in various education websites and publications and have a committee of teachers, administrators, and board members read the applications and pick a half dozen or so to interview.
At the suggestion of board member Bonnie Strobbe, a former principal herself, the district plans to have a day of initial interviews, with candidates rotating through different interviews (with groups of support staff, teachers, administrators, board members, and community representatives).
Then all the subgroups would meet to discuss the candidates and pick finalists to be interviewed again by the school board.
Board members Mark Dingmann, Tami Stanger, and Strobbe volunteered to serve on a committee to read applications.
Janotta has served a total of 36 years in education. Trained as a math and science teacher, he taught for a year in Lamberton, joined the Marine Corps for two years, taught for seven years in St. Clair (when he also earned his master's degree and specialist degree in administration), and was the principal in Chokio-Alberta for three years before coming to Paynesville in 1980.
He was named the Principal of the Year by the Central Minnesota Association of Secondary School Principals in 1987.
In addition to Janotta, two teachers - elementary teacher Ann Lundgren (35 years in the district) and high school teacher Murry Rafferty (35 years of teaching including 17 years in Paynesville) - have announced their retirements at the end of this school year. More teacher retirements are expected and should be useful as the district continues to trim its budget to compensate for revenue losses due to declining enrollment.
---
Contact the author at editor@paynesvillepress.com • Return to News Menu
Home | Marketplace | Community
---