Ingalsbe survives middle school spelling bee
This article submitted by Michael Jacobson on 2/16/00.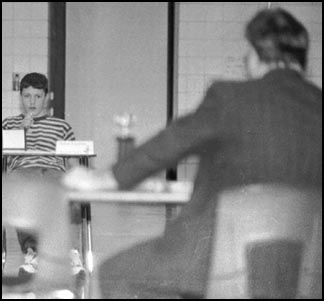 In one of the longest middle school spelling bees ever, eighth grader Adam Ingalsbe (at left, spells a word for teacher Randy Ziemer, at right) prevailed among 12 contestants on Wednesday, Feb. 9.

Each grade-sixth, seventh, and eighth-had four contestants in the finals, which started at 1:45 p.m. and barely finished before the end of the school day. It was fortunate that the spelling bee started a half hour earlier this year, according to Randy Ziemer, the middle school teacher who coordinates the spelling bee. Otherwise, they would have run out of time.

All 12 contestants answered correctly through two rounds. Through eight rounds, only two had been eliminated by missing a spelling. "All the participants were good representatives of their grade level," said Ziemer.

It took 22 rounds for Ingalsbe to outlast all the other competitors. That is the longest spelling bee that Ziemer remembers. The middle school has held an annual spelling bee for the past decade.

Ingalsbe's runner-up was sixth-grader Laura Weidner, who missed on the word "ballistic." Ingalsbe spelled it correctly, and won by spelling "soluble."

Seventh grader Maggie McCarron was third.

Both Ingalsbe and Weidner won a $50 e-bond for their finish. They also received $50 and $25 respectively from the local teachers' union.

Ingalsbe will now compete in the West Regional Spelling Bee at St. John's University on Saturday, Feb. 26, at 10 a.m. Weidner will be his alternate.

Representing the sixth grade at the local contest last Wednesday were: Keith Klein, Emily Mehr, Shawn Reinke, and Weidner. Their alternate was Breanna Kochman.

The seventh grade was represented by Heather Albrecht, Matt Fuchs, Jeremiah Gleitz, and McCarron. Their alternate was Jason Wendroth.

Representing the eighth grade were: Melissa Andrie, Ashley Hoglund, Ingalsbe, and Kayla Welle. Their alternate was Alicia Kohnen.
---