Thompson, Voss presented Lions service award
This article submitted by Linda Stelling on 2/16/00.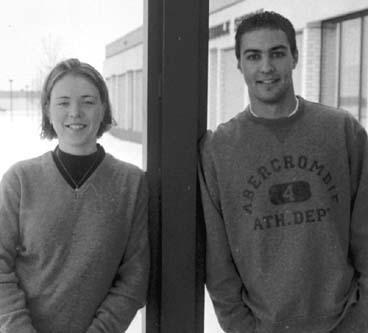 The Paynesville Lions Club has recognized Allison Thompson (right) and Jeff Voss (left) as winners of their February Youth Service Award.

The purpose of the award is to honor high school seniors who volunteer in the school and community.

Allison, the daughter of Jeff and Becky Thompson, was a bit surprised when she first heard she had won the award. "After the newness wore off, I was completely honored," she said.

Allison said she likes to volunteer because it gives her a chance to give back to people who are in need. "People are always volunteering to serve me, and the best way I can see to repay them is to keep the circle of service going," she added.

Allison's favorite memory of a mission trip is her trip to Nepal, India, in the summer of 1998. "So many things happened on that trip that made me want to continue my service to others," Allison said. She also has completed a service project to New Orleans for the Lutheran Youth Gathering.

Through school, Allison serves others as a peer helper and tutor, and she is a PALS volunteer in the elementary school and a member of Target Leadership.

Allison is president of the Nordland Lutheran Church Youth League and serves on the Southwest Minnesota Synod Lutheran Youth Board, her local church's internship committee, and the Paynesville Human Rights Commission.

She performs with the singing group On Call, and was a member of the Stained Glass musical group. She also sings in the school choir and pops choir. Allison is a member of the high school band, letterwinner's club, and is a former student council member.

Allison is also the reigning Miss Paynesville. Allison thanks the Lions Club for having this award and the nominating committee for choosing her as a winner.

Jeff, the son of Art and Berniece Voss, said he was very excited and honored to be a part of the Lion's Service Award. "Volunteering is important. Just knowing I'm helping someone out, helping them through life, makes me feel good," he said.

Last year, Jeff went on a mission trip to Red Bird Mission at Beverly, Ky. He serves on the youth ministry team at the Grace United Methodist Church where he helps as an usher and in the nursery. Jeff has volunteered as a reader during Sunday morning worship services. He also is a member of the church building committee and youth advisory team.

Through the school, Jeff serves as a peer helper, tutor, and is a PALS volunteer at the elementary school. He has also worked as a Special Olympics worker at track meets and helps out in the weight lifting program.

Jeff is a member of the high school jazz band, concert band, and marching band. He competes in football and track, and is a member of the letterwinner's club and student council.
---