Chess tourney draws record number of participants
This article submitted on 2/16/00.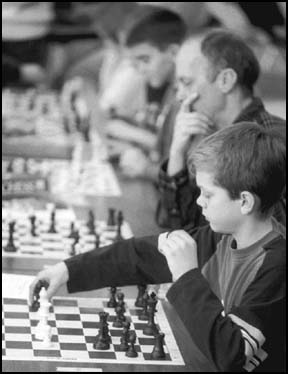 The fourth annual local chess tournament drew a record crowd of 71 participants Saturday to the Paynesville Area Middle School. That total is up from 43 three years ago.

The Swiss-style tournament was divided into five age groups: seven years old and under; eight to ten years old; 11 to 13 years old; 14 to 17 years old; and 18 years and older.

Local champions were Ella Hackett-Reicher in the seven and under group, and Ezra Thompson and Riley Sampson as co-champions in the 8- to 10-year-old group.

Kirsten Landmark Masih was the runner-up in the seven and under group, and Garrett Thompson placed third.

In the 14-17 group, Jon Millner was fourth and Tony Thielen fifth.

The tournament was organized once again by Jay and Laura Thompson. Following the main tournament, in the early afternoon, a speed chess and bughouse chess tournament were held for any willing participants.

In all, 21 local people played in the tournament.

Local results
Seven and under: Ella Hackett-Reicher, first; Kirsten Landmark Masih, second; Garrett Thompson, third;
Eight to ten: Ezra Thompson, first; Riley Sampson, first; Ginelle Zimmerman, 15th; Ted Hoffman, 16th; Rheanne Zimmerman, 17th;
11 to 13: Peder Thompson, 11th; Todd Thielen, 13th; Harrison Fangmeier, 18th;
14 to 17: Jon Millner, fourth; Tony Thielen, fifth; Scott Buerman, eighth; Josh Kampsen, 11th; Ricky Lahr, 12th; Bob Tersteeg, 13th;
18 and older: Nathan Schutz, eighth; Doug Millner, ninth; Michael Jacobson, tenth; Paul Thielen, 14th.
---