This week, the two Honors English classes at PAHS will send 19 homemade children's books to Uganda, trying to send a message of hope and peace to war-torn kids.

"We Hope For Peace" is the slogan the PAHS juniors and seniors used in their books.

"They're beautiful," said teacher Deb Ficek, who teaches two sections of Honors English, 37 students in all, of the books. "I'm really proud of what they've done."

Ficek wanted to do a project that reached out beyond Paynesville and got an e-mail about "The Memory Project" in Uganda last fall.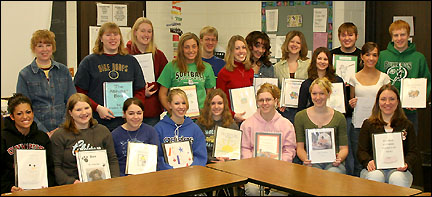 According to its website, "The Memory Project" is dedicated to helping the children of northern Uganda escape the memories of a brutal civil war. To avoid conscription, rape, and other dangers, 40,000 village children stay in shelters in the cities at night.
Members of first-hour Honors English are: (sitting) junior Brittney Kelly, junior Stacy Utsch, junior Kristine Meinke, junior Emily Lindeman, junior Jen Moburg, senior Ashley Frank, junior Sara Peterson, and senior Katie Schlick; (standing) teacher Deb Ficek, senior Allyson Klenke, senior Shonda Martinson, junior Chelsey Kalkbrenner, junior Peder Thompson, senior Breana Kochmann, senior Laura Weidner, senior Stacy Thomsen, junior Jessica Lahr, senior Tom Chevalier, junior Mari Buttweiler, and senior Mark Andrie.
"Containing beautiful artwork and calming test, one purpose of the books is to help the children find momentary peace of mind," states the website. "Another purpose, given that the war disrupts their education, is to help them read. The national language of Uganda is English."
When her students viewed a slideshow on the website (www.thememoryproject.org), "they were appalled," said Ficek. "They could not believe that children could be treated that way. Their response was, 'We can certainly write the books, but we can do more.' "
Thus, the students had the idea to attend a couple basketball games last week and seek donations to send with their books to Uganda.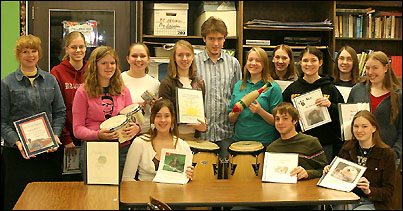 The students also put great care and effort into making the books, said Ficek. Students did everything from finding durable bindings to creating original art and researching authentic African names.
Members of third-hour Honors English are: (sitting) junior Tanis Beireis, junior Dugan Flanders, and senior Caitlin Lien; (standing) teacher Deb Ficek, senior Lynn Lieser, senior Lindsey Pelton, junior Cary Schlick, senior Megan Reeck, junior Joe McCarron, senior Lauren Vaske, junior Krista Wendroth, junior Kristi Louis, junior Sam Chevalier, and junior Erica Geurts.
The PAHS students agreed that the project made them feel like they had a personal connection to the children in Uganda.
After seeing the website, "We were just motivated to try to do something to help," said junior Jessica Lahr.
Not only were they inspired by slideshow, said junior Tanis Beireis, but they watched the movie "Hotel Rwanda" - which recounts genocide in Uganda's neighbor Rwanda - in class.
"It's more than a school project," said junior Dugan Flanders.
"It has a cause behind it," added Beireis.
"It was something different to do to help," explained senior Breana Kochmann, more personal than just a monetary donation. It is cool to know that a child will enjoy the book they wrote, she added.
Writing children's books allowed the students to be creative, said senior Ashley Frank.
Most papers, agreed senior Shonda Martinson, only get read by their teacher (for a grade) but these will be read (and enjoyed and treasured) by Ugandan children.
Writing the books and sending them to Uganda sends a powerful message to these children, said senior Stacy Utsch. "It shows that other people care about them," she explained.
Junior Peder Thompson spent 15 hours, he estimated, making original watercolor prints for his book, Jacob's Cookie. He put so much effort into it because "it meant a little more to do this project," he said.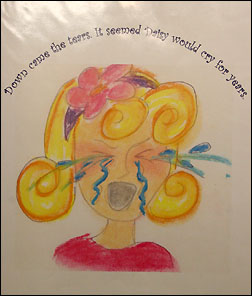 "You want it to be good," agreed Kochmann, "so the kids will enjoy it."
Senior Lindsey Pelton drew the artwork and senior Breana Kochmann did the rhyming words for their book, The Perfect Book.
"It wasn't just going to get thrown away after it was graded," said senior Lynn Lieser.
Ficek has already been told that "The Memory Project" doesn't generally get donated books of this quality. Most of the donated books are made by elementary students, not a college-level class of juniors and seniors. Of the 37 students in her two hours of Honors English, 36 are taking it for college credit, all that is, except for a student who joined the class after school started.
The books were meant to be entertaining and also soothing, with the slogan, "We Hope for Peace," littering the pages. "It's kind of the gift of sleep," explained Ficek. "We kind of take it for granted. We take peace for granted."
Books by the PAHS students ranged from basic counting books and alphabet books - Lieser included A is for Africa and K is for Kampala, the capital of Uganda - to animal books (such as Otto the Otter by senior Caitlin Lien), sports books (The Great Baseball Tryout by senior Mark Andrie), mysteries (The Case of the Missing Money by Flanders, to retellings of fables (The Story of the Great Race to the Horizon by Megan Reeck, which retells the fable "The Tortoise and the Hare").
Reeck, like several classmates, including Thompson, created her own artwork for her book. Some students even enlisted the aid of students not in the English class to help with the artwork. Others found pictures or artwork to include in their story books.
Still others, like senior Stacy Thomsen, researched African names to use in their books. Thomsen's were Malaki and Kajumba.
"Their one regret," said Ficek, "is that they can't have a copy themselves because they're all originals."
---
Contact the author at editor@paynesvillepress.com • Return to News Menu
Home | Marketplace | Community
---