For February - I Love To Read Month - the Press asked sixth grade students - and their mother or father - to share what they like to read and their reading habits.

Names:
Megan and Allen Schmidt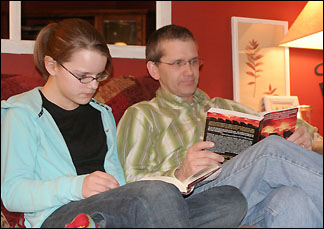 Why do you like to read?
Megan: It's fun. It helps me learn more about stuff in life.
Allen: I like to learn things and read about other people's life experiences.
What type of books are best?
Megan: Fairy tales and mysteries because they take me on adventures.
Allen: Histories and biographies. I find them very interesting. You find out a lot about human nature, what people are capable of, both the good and the bad.
What books do you remember someone reading aloud to you?
Megan: I remember my mom and dad reading a lot of Dr. Seuss, Berenstein Bears, and Corduroy.
What is the first book you read completely on your own?
Megan: I think it was probably a Little Critter or Dr. Seuss book.
Allen: Some of the first books I remember reading were Katie the Curious Cow, Old Yeller, and That Dog Tar. I remember ordering books from the Scholastic Book Club when I was in elementary school.
What is your favorite book?
Megan: One of my favorites is The Two Princesses of Bamarre by Gail Carson Levine.
Allen: I don't know if I have a favorite, but I liked Endurace - Shackleton's Incredible Voyage by Alfred Lansing, and right now I'm reading Liberation Road by David L. Robbins, which is good.
Who are your favorite authors?
Megan: I like Gail Carson Levine and Carolyn Keene
Allen: I don't have any favorite authors.
Please give a summary of the last book you have read.
Megan: The last book I read was Alida's Song by Gary Paulsen. It is about a 14-year-old boy who lives in the city. His parents are alcoholics. His grandmother has him come and live with her on a farm where she works. At the end of the book, he learns all she really did for him. It is a good book if you want a shorter book to read.
Allen: The last book I read was Night by Elie Wiesel. It's a true account of Elie, who as a teenager was taken with his family to Auschwitz and then to Buchenwald, where all of his family eventually died. It's a story of the atrocities that can happen when people choose to look the other way and ignore right and wrong.
Besides books, what else do yuou like to read?
Megan: like to read funny stories in Reader's Digest, different magazines like American Girl, National Geographic for Kids, and Time for Kids.
Allen: My Bible, the newspaper, and home-remodeling magazines.
Where is your favorite place to read?
Megan: I usually read in the living room because it's comfortable and mostly quiet.
Allen: Any place where the light is bright because the eyes aren't what they used to be!
What is your favorite snack while reading?
Megan: I usually don't eat anything when I read, but sometimes I may eat candy.
Allen: None.
Why is reading important?
Megan: It helps me learn more about things and understand more. It gives me a break from real life, to go on an adventure.
Allen: Reading is important because learning is a lifetime activity.
What are your other interests and hobbies?
Megan: I enjoy learning and doing sign language, having sleepovers with my cousins, ice skating, and playing softball with my church team in the summer.
Allen: Home remodeling and any activity that we can do as a family.
---
Contact the author at editor@paynesvillepress.com • Return to News Menu
Home | Marketplace | Community
---