Frieler, Flanders recipient of Lions Service Award
This article submitted by Linda Stelling on 2/14/01.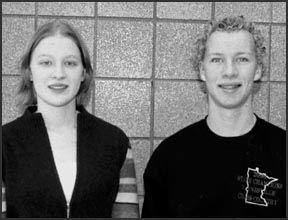 Cassie Frieler and Ryan Flanders were selected as the Lions Service Award winners for February.

The award is presented to members of the senior class who have demonstrated acts of service to their school and community.

Cassie is the daughter of Jane and Steve Frieler. She was surprised and honored upon hearing she had won the award.

Cassie enjoys helping people. "I feel it gives a meaning to life," she said. Cassie added it makes volunteering worthwhile when she sees someone else gain confidence in themselves.

Cassie is a peer helper, peer tutor, and math aide at school. She participates in school government, Business Professionals of America, school newspaper, and danceline.

At St. Louis Catholic Church, Cassie is a vacation Bible school helper, religious education teacher, and mass server. She also works in the parish nursery and works at other church events.

Ryan Flanders is the son of Amy and Patrick Flanders. "I feel honored to be recognized by such an upstanding organization," he said.

"Some people say that volunteering is giving something for nothing, but the truth is that the satisfaction received is greater than the effort put forth," Ryan stressed.

An enjoyable part of volunteering for Ryan is playing Nerf basketball with the little guys.

Ryan is active in school government as he served on the youth advisory council to the school board. He is a peer tutor in the middle school, a Pals volunteer, a D.A.R.E. role model, and helps backstage with middle school plays.

Ryan is a member of the state championship cross country team. He also competes in track and enjoys karate. He has earned letters in cross country and track. Ryan is also a member of the band and takes part in drama activities.
---