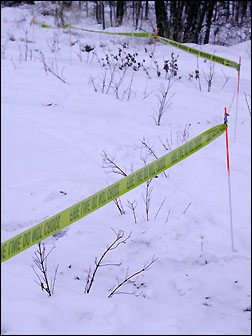 Snowmobilers drove across an area planted with young shrubs at Veteran's Memorial Park by Lake Koronis last week, damaging the foliage.

After the trampled shrubs were discovered early last week, the area was cordoned off with caution tape. Snowmobiles are not permitted on the city-owned park nor on private property without permission.

Young shrubs at Veteran's Memorial Park near Lake Koronis were trampled last week by snowmobiles, prompting city workers to erect this yellow fire tape to protect the foliage.

Though the extent of the damage at the park won't be known until spring, according to John Wimmer, a member of the city's park board, the plant's ability to absorb nutrients drops by 50 percent even if the bark is clipped on the side.

"If anyone has information about who did this," said Ron Mergen, public works director for the city of Paynesville and also a park board member, "we'd sure like to know."

Wimmer emphasized that damage to plants isn't something that can be fixed with a hammer and nails. "When you destroy plant material, you destroy time," he said. "It's a real slap in the face to have individuals do this," he added.

Trespassing snowmobiles frustrate both property owners and responsible snowmobilers every winter, according to Ron Thompson, president of the Koronis Hills Snowmobile Club. "We do our best to police our own," said Thompson

The snowmobile club maintains 28 miles of trails in the Paynesville area, gaining permission from private landowners and having to placate anyone who is upset by trespassing. "Anytime they're off the trail system, they're trespassing and it puts a sore eye on us," he added.

Though not excusing the actions of snowmobilers who veer off the trails, Thompson explained that everyone is trying to cram two months of snowmobiling into a few weeks, since snow arrived in the area.

Thompson added that the snowmobile club does everything it can to prevent trespassing. They groom trails for enthusiasts, they mark trails with signs or snowfences to discourage trespassing, and they hold certification classes for 14- to 18-year-olds, but there are always people that will abuse the system.

"Everyone that rides a sled is a representative for snowmobiling," said Wimmer. "I ride a sled, too," he continued, "but I think about the consequences when I'm out there."
Regulations
Snowmobile drivers must be at least 14 years of age, and those ages 14 to 18 must have snowmobile certification.
All snowmobilers must observe traffic laws: stop at all intersections; use caution at driveways; observe a 15 mph speed limit within city limits; and 50 mph outside city limits.
In Paynesville, snowmobilers must take the most direct route from their residence out of town or straight to their residence when returning home.
Snowmobiles are prohibited from private property, unless given permission by the property owner; on county and state roads (except when crossing a bridge); and on all city property.
When driving along county roads and state highways, snowmobiles must drive in the ditch, staying at the bottom or outside, not on the inner slope of the road. They must also cross roads at a 90 degree angle, and, at night, drive in the ditch with the flow of traffic.
Snowmobiles are allowed on township roads, designated trails, ditches, and lakes.
---
Contact the author at editor@paynesvillepress.com • Return to News Menu
Home | Marketplace | Community
---